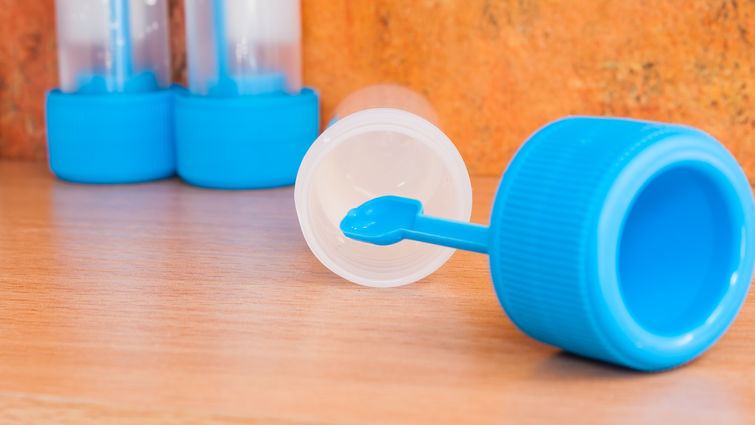 Steep declines in cancer screenings during the COVID-19 pandemic continue to raise concerns about delays in diagnosis and treatment of some cancers, according to the National Cancer Institute. Potentially life-threatening consequences from missed screenings apply especially to the nation's third most deadly cancer — colorectal cancer.
At-home screenings known as fecal occult blood tests can, however, present viable options for detecting one of the most dangerous yet preventable cancers in the U.S., says Fabrizio Luca, MD, surgical oncologist and chief of the division of colon and rectal surgery at Loma Linda University Cancer Center.
Though colonoscopy remains the most advantageous and effective screening method for colorectal cancer, Luca says fewer people have undergone the test in recent years as patients and medical facilities canceled or delayed cancer screenings for pandemic-related precautions.
Physicians can diagnose and potentially eradicate early-stage cancer in a single colonoscopy. However, Luca says patients remain hesitant or unwilling to undergo this screening for a range of reasons: perceptions of a daunting preparation process, anxiety about the procedure itself, difficulties with cost and access, and, newly, fear of COVID-19 exposure.
So, for those not keen on colonoscopy, Luca recommends considering at-home testing options, such as the fecal occult blood test. The safe and effective screening method involves little to no pre-test preparation and requires sending a stool sample to a lab for analysis.
Screening at home
If you are 45-years-old or older, start a virtual or in-person conversation with your primary care provider about colorectal cancer screening and ask about the at-home options, Luca says. If you and your doctor opt for at-home testing, you will receive the screening kit in the mail after your visit. Both your doctor and the kit's instructions will inform you of any measures you should take before starting the test.
The kit includes everything you need, from instructions and a swab for fecal collection to a sterile container and special envelope for mailing. When you are ready to take the test, follow the instructions: After having a bowel movement at home, use a scoop tool to collect a small amount of the stool. Store the stool sample in a collection container from the test kit. Then, mail the stool sample to your doctor or a designated lab for analysis.
In the lab, Luca says pathologists will analyze the sample for hidden (occult) blood that may indicate a problem in your digestive system, such as a growth, or polyp, or cancer in the colon or rectum.
When the analysis is complete, your doctor will go over the results with you — typically within two weeks — and determine the best way to move forward.
Positive result: The fecal occult blood test detected in your stool samples. Your doctor will order additional testing, such as a colonoscopy, to find the source of bleeding, diagnose, and treat the problem. A colonoscopy will not only diagnose colorectal cancer if present, but also treat small polyps before they transform into an invasive cancer.
Negative result: The fecal occult blood test has not detected blood in your stool samples. If you have an average risk of colon cancer, your doctor may recommend repeating the test yearly. In addition, you should continue to follow your doctor's recommendations for regular cancer checks.
Why now?
Luca says he expects to see the repercussions of the pandemic-induced decrease in colorectal cancer screenings in the next five years — an increase in mortality from the disease. The pandemic remains relevant, but Luca says medical facilities, providers, and patients are better equipped, organized, and educated to mitigate COVID-19's effects. Luca says that screening for cancer was back-burnered to address the COVID-19 crisis, and it is now time to address this public health issue by prioritizing screenings again.
Whichever screening option for colorectal cancer you decide to pursue, "act now," Luca says. He says waiting for symptoms to arise is too risky since signs are likely to appear during the later stages of the disease when cancer has already grown or spread and become more challenging to treat.
Colorectal cancers detected at earlier stages through screenings can help maintain a good quality of life and may reduce a patient's likelihood of needing radiation, chemotherapy, or an ostomy — a surgery that creates an opening in the abdomen for bodily waste to empty into an attached bag.
---
Talk to your primary care provider about your risk factors, best timing, and colorectal cancer screening options for you. If you or a loved one is diagnosed with colorectal cancer, you can trust the experts at Loma Linda University Cancer Center to provide the personalized care you need. Learn more about the Cancer Center's colorectal cancer care online or call 800-782-2623.
Meet Our Providers
Fabrizio Luca
Chief of division of colon and rectal surgery