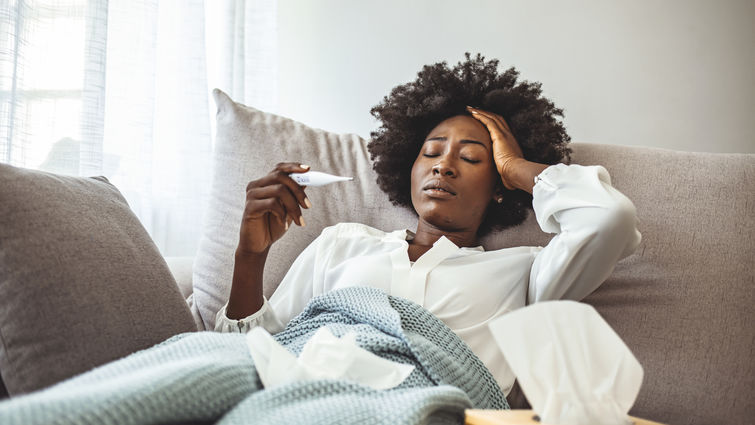 As we approach the 2021-2022 flu season, it is crucial to understand the signs and symptoms of the flu and COVID-19 and how to differentiate between the two. While the battle against COVID-19 remains a priority, infectious disease expert Richelle Guerrero-Wooley, MD, warns that immunity against influenza may be low, leading to a severe flu season.
This warning comes as more opportunities for the flu virus to spread arise and population immunity decreases.
As more Americans continue to get vaccinated against COVID-19 and more businesses reopen, the opportunity for the flu to spread becomes larger. Children are back in the classroom, many of us are back to work, masking and social distancing guidelines are more lenient, larger groups are allowed to congregate, and so on.
With more individuals in close proximity to one another, the flu is more likely to spread — a concern for many experts due to a decrease in population immunity. Population immunity has decreased this year due to the low flu rates we saw during quarantine in 2020. This means our natural immune defense has not been built up as many individuals avoided the flu in 2020 altogether.
With these warnings, it is imperative to understand the signs and symptoms of each illness. However, differentiating between COVID-19 and the flu is more difficult to do based on symptoms alone.
Similar symptoms of both the flu and COVID-19 include the following:
Fever or feeling feverish/having chills
Cough
Shortness of breath or difficulty breathing
Fatigue (tiredness)
Sore throat
Runny or stuffy nose
Muscle pain or body aches
Headache
Vomiting and diarrhea
Change in or loss of taste or smell, although this is more frequent with COVID-19.
The main difference between COVID-19 and flu symptoms is that COVID-19 symptoms typically appear 5-14 days after initial infection, whereas flu symptoms can appear 1-4 days after infection. While this information can lead to a diagnosis, testing is key to determining whether the presenting symptoms result from COVID-19 or influenza.
If you think you are sick with the flu or COVID-19, visit your doctor to determine the cause of your symptoms. In most flu and COVID-19 cases individuals will recover on their own. However, severe complications can arise from both, including pneumonia, respiratory failure, sepsis, and more. Additional complications associated with COVID-19 include blot clots and Multisystem Inflammatory Syndrome in both adults and children.
Viral illnesses like the flu and COVID-19 cannot be treated with antibiotics. Antibiotics work best when treating bacterial diseases, like whooping cough or strep throat. In severe cases of the flu, antiviral drugs can reduce symptoms and sick time, however these are not antibiotics and should only be used if prescribed by your doctor and you are at high risk of complications.
With such a long list of similar symptoms and an increase in difficulty in determining whether symptoms presented are due to COVID-19 or the flu, we must do our best to protect ourselves against both illnesses.
Guerro-Wooley recommends protecting yourself from both the flu and COVID-19 by getting vaccinated. Individuals are now able to receive both vaccines concurrently, including COVID-19 booster shots. COVID-19 vaccines, booster shots, and flu vaccinations are offered at various clinics campus-wide.