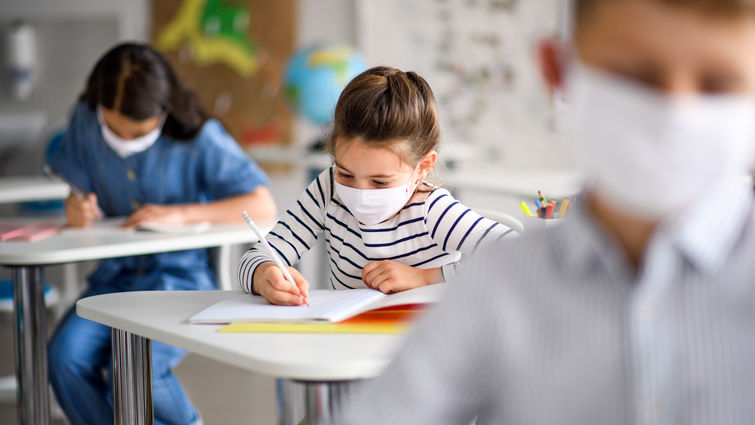 After declining in early summer, pediatric cases of COVID-19 have increased dramatically. The American Academy of Pediatrics (AAP) reports more than 250,000 cases in the United States added since September 2 — the largest number of pediatric cases in a week since the pandemic began.
Maulin Soneji, MD, a pediatric infectious disease specialist at Loma Linda University Children's Hospital, says that while many health professionals worried pediatric cases would rise as school was back in session, children benefit from in-person learning and returning as safely as possible is the goal.
"Unfortunately, with back-to-school season and the pandemic, the situation is a mixed bag," he says. "Kids having the opportunity for in-person learning is a great thing and helpful for so many reasons, including their emotional and intellectual development. But the question will be, as a school system, can they stick to safety guidelines to protect their kids — hand hygiene, masking, and physical distancing when possible."
Soneji says data show that severe illness from COVID-19 is uncommon among children, with the AAP reporting only between 0.00%-0.03% of all pediatric COVID-19 cases being fatal.
In Southern California's Inland Empire region, Soneji says Children's Hospital is seeing approximately one child every 1-2 days being admitted with moderate to severe COVID-19 pneumonia.
"Pneumonia is generally caused by a bacterial infection," Soneji says. "But COVID-19 pneumonia is a complication of a viral infection such as COVID-19 with some symptoms including fever, a dry cough, shortness of breath, and fatigue."
The pediatric patients are staying in the hospital for 4-7 days on average and requiring supplemental, sometimes high flow oxygen, says Soneji. "Generally, we are seeing most kids recovering enough to go home after a week," he says. "But it can take months for them to get back to normal after they leave the hospital."
Soneji encourages parents to vaccinate their eligible children against COVID-19 — those ages 12 years and older. "Talk to your child about protecting themselves through wearing a mask indoors, distancing themselves when possible inside a closed and unventilated classroom, handwashing and sanitizing frequently, and staying home when they are sick or getting tested," he says.
To schedule a vaccine appointment or learn more, visit lluh.org/coronavirus.