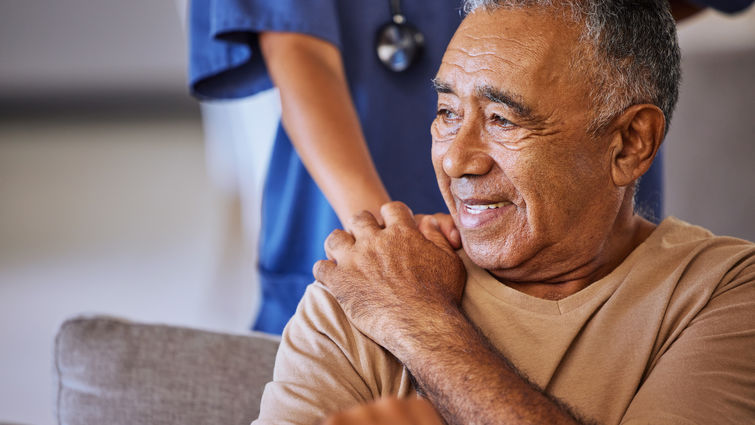 Over 35,000 people will be diagnosed with a chronic, incurable cancer of plasma cells called multiple myeloma this year, according to the American Cancer Society; an estimated 12,590 deaths from the cancer are also expected throughout 2023. Yet thanks to recent advancements in treatment, people with multiple myeloma are living longer than ever, says Hisham Abdel-Azim, MD, MS, chief of the division of transplant and cellular therapy (TCT) at Loma Linda University Cancer Center.
"This is a major health problem," says Abdel-Azim. "Yet recent advancements in cellular therapies and immunotherapy improve overall survival for people with multiple myeloma."
Multiple myeloma is hardly curable, he says, meaning the cancer eventually returns, or relapses, after treatment in all patients. However, with each new line of treatment, he says the cancer is less likely to respond and more likely to return faster.
"The challenge isn't in fresh cases," he says, "but rather in treating patients whose cancer has relapsed and see their treatment options dwindle."
For March's Multiple Myeloma Awareness Month, Abdel-Azim reviews three treatments recently approved by the U.S. Food and Drug Administration (FDA) that represent advancements to help people whose multiple myeloma has relapsed after three or more lines of treatment.
Each treatment has a different way of targeting b-cell maturation antigen (BCMA), Abdel-Azim says, a protein commonly found on plasma cells but is often found at higher levels on multiple myeloma cells.
CAR-T cell therapy: idecabtagene vicleucel
A pivotal clinical trial, KarMMA-2 Study, led to the FDA approval of idecabtagene vicleucel in 2021. From a median follow-up of 13.3 months with 140 patients, the study reported the following rates:
73% response rate — the percentage of patients whose cancer shrinks or disappears after treatment.
53% remission rate — the percentage of patients with no signs of cancer during a certain time after treatment.
8.8 months of median progression-free survival — the length of time from either the date of diagnosis or the start of treatment for cancer that half of the patients in the group diagnosed with the cancer are still alive.
"These are impressive numbers for patients with relapsed multiple myeloma, especially considering that the alternative response and remission rates would have been very low," says Adel-Azim.
CAR-T cell therapy: ciltacabtagene autoleucel
The CARTITUDE-1 Study clinical trial led to last year's FDA approval of ciltacabtagene autoleucel. From a median follow-up of 27.7 months with 97 infused patients, the study reported the following rates:
97.9% response rate
82.5% remission rate
Immunotherapy: Teclistamab
Teclistamab is a bispecific antibody, meaning it can bind to two different targets simultaneously; in this case, it binds BCMA and CD3, which is present on immune cells called T cells. Teclistamab forms a bridge between myeloma cells and T cells, enabling the T cell to recognize the cancer cell and trigger a series of events leading to myeloma cell destruction. The MajesTEC-1 clinical trial led to the immunotherapy's FDA approval for multiple myeloma in the fall of 2022. The trial reported:
About 66.66% partial response rate
40% complete response rate
11 months of median progression-free survival
Teclistamab requires weekly infusions, says Abdel-Azim, unlike the one-time infusions of CAR-T cell therapies, which spare patients from more side effects. On the other hand, he says one advantage of the immunotherapy is its availability "off the shelf," whereas CAR T cells require the patient's cells to be processed in a lab before treatment.
Many considerations filter into selecting the proper treatment for each eligible person with multiple myeloma, Abdel-Azim says, including centers' availability of the medicines and patients' clinical conditions.
"Overall, each of these treatments signals major steps we are taking in advancing cutting-edge treatment for multiple myeloma," Abdel-Azim says.
---
Loma Linda University Cancer Center offers patients comprehensive care that gives them the best opportunity to face cancer. Learn more about all of the resources provided to patients at the center online or call 1-800-782-2623.