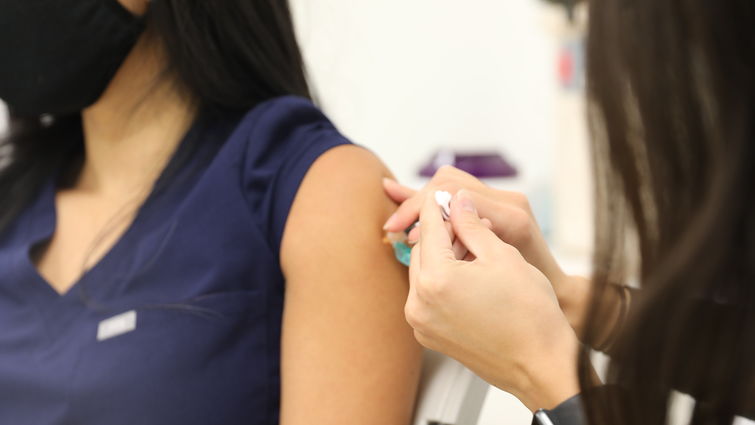 With the release of the updated bivalent COVID-19 booster shot and early signs that this flu season will be more severe than in years past, many Americans are wondering if it's OK to get both vaccines at the same time. 
Assistant Professor Jacinda Abdul-Mutakabbir, PharmD, MPH, at Loma Linda University School of Pharmacy, says you can and should. 
"The time to get both vaccines is now," Abdul-Mutakabbir says. "Get them out of the way for the upcoming holiday season, when the weather cools, and more people gather together indoors."
She offers answers to frequently asked questions about getting both shots at once.
What is bivalent, anyways?
Abdul-Mutakabbir has heard of patients not getting the bivalent shot because they didn't know what it was. "Bivalent" boosters, meaning two, are designed to combat the most virulent strains of the omicron subvariants of the coronavirus — BA.4 and BA.5. The updated shot was authorized in September for adults and children as young as 5 by the Food and Drug Administration. 
Do we need another COVID-19 booster?
"Yes, because vaccine protection wanes more quickly now, with the introduction of newer, stronger strains like omicron," she says. "Boosters are the only way to maintain reduced numbers of severe illness and death." Abdul-Mutakabbir says one can even get sick from flu and COVID-19 at the same time.
Does getting the flu and COVID-19 shots together make either less effective?
With the one-and-done approach, neither vaccine's efficacy is affected by the other, according to Abdul-Mutakabbir. "Administering both will not cause changes to either vaccine, and it is completely safe to do so," she says.
Will the side effects be worse if you get both shots at once?
Despite what you may think, most people who get both vaccines at once aren't likely to get more severe side effects than if they only got one. Abdul-Mutakabbir recommends preparing to feel under the weather for a few days after getting the shots. "It doesn't mean the vaccines are making you sick," she says. "That's just your body creating a healthy immune response to gear up to fight against future infection."
Should you get one shot in each arm or both in one arm?
Based on her own experience, Abdul-Mutakabbir, says your arm will be less sore if you get the vaccines in each arm rather than one. The Centers for Disease Control also promotes separating vaccine shots into different limbs, if possible, to reduce local injection site reaction.
If you've recently had COVID-19, do you need the new booster?
The timeframe to receive a booster shot is either two months after the last COVID-19 dose or three months after a COVID-19 infection — marked by either symptom onset or a positive COVID-19 test, advises Abdul-Mutakabbir.
To schedule a flu shot and COVID-19 vaccine for you or your family, contact Loma Linda University Primary Care at 909-255-3236 or through MyChart.