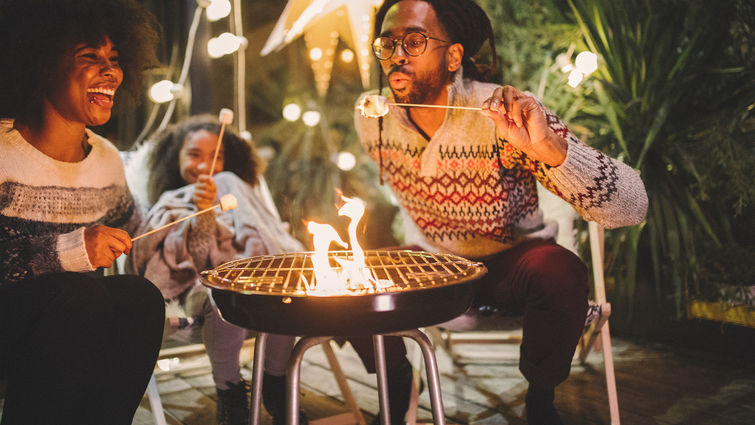 Whether it's an afternoon spent playing football, an evening bonfire or outdoor holiday decorating — the fall season offers an array of activities and potential injuries. Evelyn Massey, MD, and Paul Giem, MD, Life Support Education instructors at Loma Linda University School of Allied Health Professions, offer these safety tips to be prepared for common first-aid situations.
Avoid the Burn. Each year in the U.S., more than 100,000 people are treated in hospital emergency rooms due to a scalding injury, according to the  Electrical Safety Foundation International. Whether it is making a favorite holiday dish, kindling the flame in a fireplace, or lighting that pumpkin spiced candle — no matter the unexpected burn, the first thing to do is make sure the scene is safe. For minor burns, cool the affected area with cold, but not ice-cold, water for at least 10 minutes. When the burn no longer hurts, remove from the cool water and cover with a dry, nonstick, sterile bandage. Seek immediate medical attention for severe burns. 
Broken bones and sprains. More than 13,000 people are treated in hospital emergency rooms annually due to injuries related to holiday decorating, according to the U.S. Consumer Product Safety Commission. Strains, sprains and fractures are the most common, but proper X-ray and medical consultation is necessary to properly diagnose. Immediate first-aid steps you can take are ensuring the scene is safe, covering any open wounds with a clean dressing and immobilizing the limb until help arrives or you are able to see a physician. 
Concussions, neck and spinal. As children and adolescents return to their seasonal sporting activities — contact sports among them — the risks for concussions, neck and spinal injuries increase. With any one of these injuries, it's important to be cautious about moving the injured person and only do so if they need to be removed from a dangerous scene, need help breathing or to vomit. ​Suspect a head injury if the injured person cannot respond, moans only, appears confused, vomits, seizures, or has trouble seeing, walking, or moving. Make sure the scene is safe, do not twist or move the person's head, and have them remain as still as possible until someone with advanced training can take over.  
Giem says no matter what the accident, being prepared can keep an accident from becoming a disaster and may allow more time for recovery and continued enjoyment of the season.​
Want to learn how to perform life-saving steps during an emergency? Check out the Life Support Education courses offered through Loma Linda University School of Allied Health Professions. For more information, contact lifesupporteducation@llu.edu or call 909-558-4977.