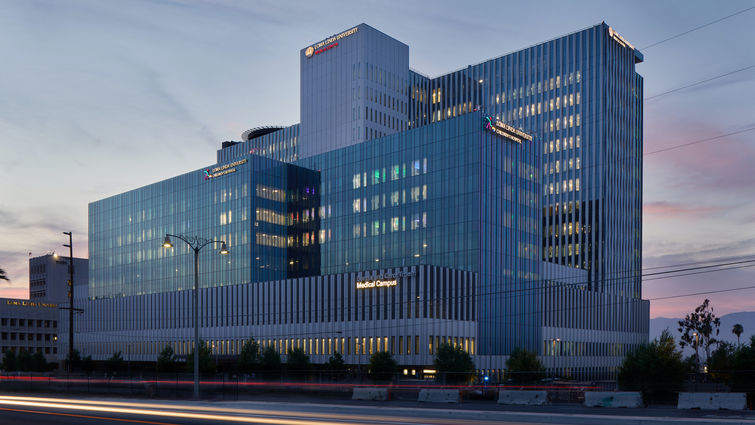 A virtual ribbon-cutting ceremony of the Dennis and Carol Troesh Medical Campus at Loma Linda University Health will be held on Friday, August 6 at 1 pm. The community can join the celebration online at lluh.org/newhospital.
"The Dennis and Carol Troesh Medical Campus begins a new chapter in our 115-year legacy of bringing wholeness to the world," said Kerry Heinrich, CEO of Loma Linda University Health Hospitals. "This amazing place will be a destination where patients and families will find their lives touched and their health restored."
After breaking ground on construction on May 22, 2016, the future hospitals have been taking shape, starting as a 40-foot hole in the ground and growing to the 16-story adult tower and 9-story children's tower. The adult tower stands 268 feet tall and is the second tallest hospital in California. The Dennis and Carol Troesh Medical Campus is the new home of the Adult and Children's Hospital towers, and will serve the health needs of patients from the Inland Empire region and around the world.
The stunning new buildings will officially open their doors to the community for care on Sunday, August 8, and patients will transition from the existing hospitals to the new hospitals throughout the day. The existing Emergency Department on Campus Street will permanently close at 7 am as the new adult and pediatric Emergency Departments on Barton Road open.
For more information on the opening of the Dennis and Carol Troesh Medical Campus, visit lluh.org/newhospital.