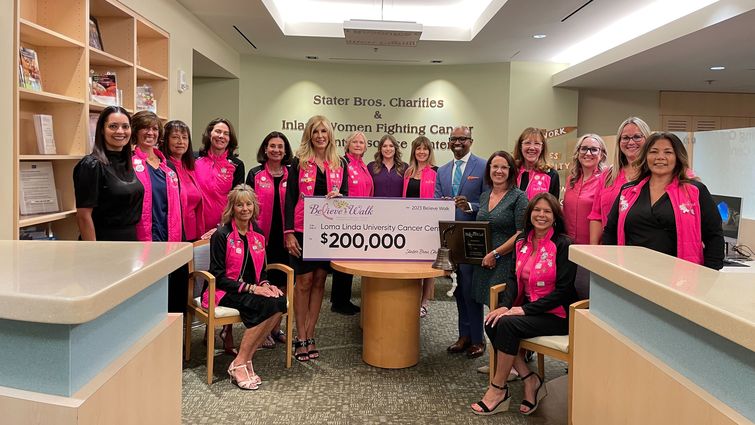 Stater Bros. Charities and Believe Walk co-founders Annie Sellas and Cathy Stockon, along with Inland Women Fighting Cancer, presented a check for $200,000 to Loma Linda University Cancer Center on August 31. The funds were a portion of those raised at the 15th annual Believe Walk held in October 2022 and will help sustain patients' access to essential wellness services at the Cancer Center.
"We have partnered with Stater Bros. Charities and Inland Women Fighting Cancer since the first Believe Walk in 2008," said Judy Chatigny, MSN, Cancer Center assistant vice president. "This year, we are proud to continue the long-standing partnership that enables our Cancer Center to uphold the delivery of excellent care for patients in the community."
Chatigny says the donation will continue to sustain the services provided by the Cancer Center's Stater Bros Charities and Inland Women Fight Cancer Resource Center. Services include patient navigation services, valet parking, financial assistance programs, Stater Bros. grocery gift cards, transportation vouchers, wigs and beanies, skincare, support groups, massage chairs in the infusion area, as well as consultations with dietitians, social workers, a chaplain, pharmacists, or psychologists. Earlier this year, the Cancer Center expanded its infusion center, doubling the number of patients who can receive care services each day.
Read: Loma Linda University Cancer Center doubles its capacity to offer patients supportive care services
Carol Thompson, 70, first pursued treatment for breast cancer at the Cancer Center in 2018 and again in 2021 for another type of breast cancer. She says the Cancer Center's array of services played a crucial part in her healing journey. Throughout the years, Thompson underwent proton treatment, infusion therapy, surgery, radiation, and targeted therapy. In addition, a nurse navigator helped coordinate and walk Thompson through each step. Other services Thompson says helped throughout her journey included valet parking, financial services, and comfortable infusion chairs.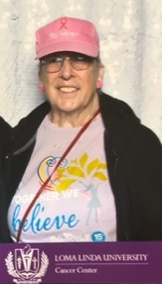 "Valet parking was wonderful when my energy level was at its lowest and long walks from the parking garage seemed so taxing," she says. "Through financial services I received help to cover the cost of my targeted therapy drugs for the 18 treatments, which was so greatly appreciated. The chairs they provided at the Loma Linda University Health Beaumont – Banning infusion center were comfortable during the long hours of infusion."
Thompson says she is grateful for events like Believe Walk that bring the community together for a cancer cause and provide funding to sustain the Cancer Center's services for patients.
The Believe Walk aims to increase awareness of all cancer, support survivors and caregivers, expand treatment, and enhance wellness for those impacted by cancer. Last year's walk united over 8,000 participants for the first in-person event since 2020, raising a record-breaking $1.9 million.
The Believe Walk started with a vision by co-founders and cancer survivors Annie Sellas, Cathy Stockon, and the late Nancy Varner, to create a much-needed cancer patient resource center in the Inland Empire.  Through the partnership of Stater Bros. Charities and Inland Women Fighting Cancer, Stockton and Sellas say the Believe Walk continues to be a blessing for the cancer community.
"It takes a village to heal those facing cancer in our community thanks to enduring partnerships with institutions like Loma Linda University Cancer Center," they say. "We praise God every day and thank Him for our healing and never forget that anything is possible for him who believes."
Together, Stater Bros. Charities and Inland Women Fighting Cancer have donated over $7.4 million to support programs, services, and equipment to advance cancer care in the Inland Empire. Believe Walk proceeds will also help expand funding to new cancer-fighting organizations throughout Southern California.
---
The 16th annual Believe Walk will take place on October 1. You can support the fight against cancer by signing up to participate and donate to the cause.