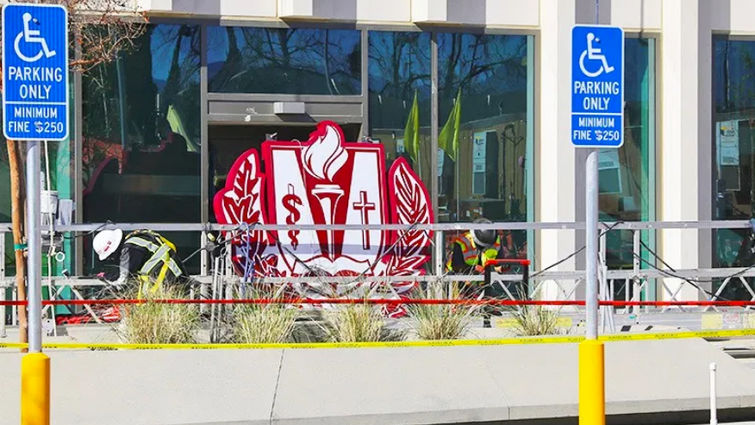 The latest indication that construction work on the future Loma Linda University Health Medical Center is nearing completion took place in early February when workers lifted and secured a large organization logo on the east-facing side of the adult tower.
Weighing roughly 250 pounds, workers loaded the logo onto a lift platform at the building's base. The piece was then raised to the tower's top, more than 200 feet above ground level. Workers at the top of the tower had already installed mounting hardware and electrical connections, and final installation went smoothly.
The main color used in the logo is known at Loma Linda as Regent Red, a classic color selected because it delivers a message of strength, innovation, and leadership. At the logo's base is Loma Linda University Health's motto — To Make Man Whole.
The massive construction project is a part of Loma Linda University Health's Vision 2020 – The Campaign for a Whole Tomorrow, which announced a successful conclusion in late February. New buildings for both hospitals will meet and exceed California's upcoming seismic requirements for hospitals.
These photos are courtesy of Dennis E. Park, who has been documenting the hospital construction effort with regular posts on his blog, www.docuvision2020.com.