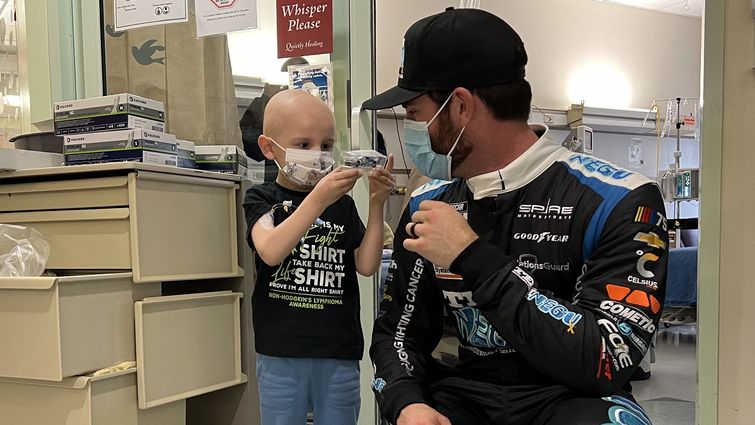 NASCAR driver Corey Lajoie and Irvine-based nonprofit Jessie Rees Foundation partnered to gift 100 "JoyJars" filled with toys, games, and activities to patients at Loma Linda University Children's Hospital Thursday, February 23.
The third-generation professional racecar driver spent a couple of hours with patients and their families in the pediatric and intensive care units, signing autographs and taking photos.
"You go in feeling like you're going to make those kids' day, you're going to bring them a JoyJar and talk to them for a few minutes, but those kids make my day just as much," said Lajoie before hitting the racetrack at this weekend's race at Auto Club Speedway in Fontana. "To see how much the little boys and girls are not giving up and continue to fight each and every day, it gets you emotional, and you leave with a different perspective."
During his visit, he congratulated 4-year-old racecar fanatic Eli Thompson for completing his last chemotherapy and returning home cancer-free.
As a dad to two sons, Lajoie says he cares deeply about all factors that affect kids and their health.
"Childhood cancer affects too many families today, and we need to do everything we can to support and lift these kids and their families," said LaJoie.
LaJoie's No. 7 Chevrolet Camaro ZL1 will be painted in honor of the Jessie Rees Foundation for six NASCAR Cup Series races this year, starting in Fontana. The car will sport "NEGU" for Never Ever Give Up, the nonprofit's motto. The Camaro will be painted in the charity's primary color of blue, accented by a yellow childhood cancer ribbon.
The Jessie Rees Foundation was founded when 12-year-old Jessica Joy Rees was diagnosed with terminal brain cancer and given just 12-to-18 months to live. Jessie started distributing JoyJars in 2011 during her fight against inoperable brain cancer.