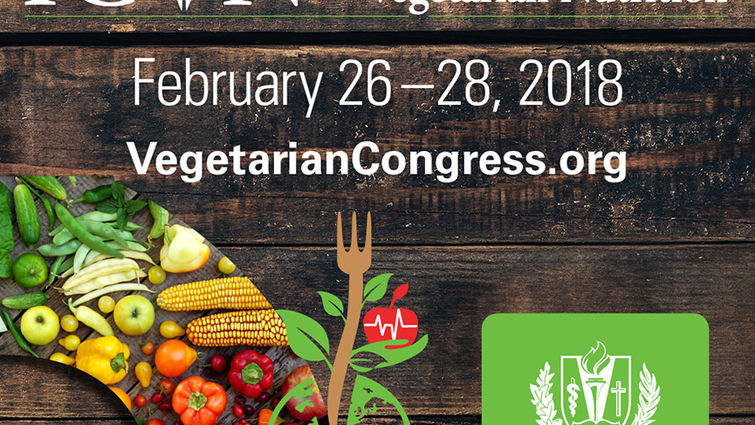 The 7th International Congress on Vegetarian Nutrition, globally recognized as the world's premier scientific congress on the effects of vegetarian and other plant-based diets, is set to convene for three days in February to showcase recent advances from basic science, epidemiology and clinical trials in vegetarian nutrition from around the planet.
The congress, which is hosted by Loma Linda University's School of Public Health and begins Feb. 26, 2018, is expected to draw more than 700 scientists, physicians and nutritionists who will share the latest ways to incorporate plant-based nutrition into everyday life.
The congress is held every five years and is the only time when the world's leading scientists and scholars versed in the study of plant-based diets gather to unveil research findings and raise provocative ideas.
"We're pleased to be hosting The 7th International Congress on Vegetarian Nutrition, which will provide a forum for a review of all the best research, concepts and applications of vegetarian dietary practices for preventing diseases and promoting health," said Joan Sabaté, MD, DrPH, director of the Center for Nutrition, Lifestyle and Disease Prevention and chair of the event.
Sabaté said the theme for next year's event — "Plant-based Nutrition for Personal, Population and Planetary Health" — signals a significant shift in both scope and awareness from previous years. He cites recent studies — including this one — as examples of the often-unexpected ways plant-based nutrition benefits the health of the ecological environment.
Sabaté says that when the congress first started 35 years ago, vegetarian nutrition was ignored, unknown or rejected by most health professionals. But as the general population has increasingly embraced plant-based diets, he says the congress has become recognized as the global leader in educating health professionals in how to advise and treat their vegetarian clients and stay current on the scientific literature.
The event will feature an enlarged culinary demonstration by chefs who specialize in healthy, delicious vegetarian cuisine. The chefs will mingle theoretical discussions about the health benefits of plant-based foods into their demonstrations.
The previous congress, held in 2013, drew nearly 900 people from more than 40 countries.
The congress is accredited for more than 20 hours of continuing education units (CEU) and continuing medical education (CME).
The public is invited to a vegetarian food fair and a series of free lectures, which will be held the Sunday before the congress begins.
Registration is currently open.
For more information, including viewing previous congresses, visit www.VegetarianCongress.org. If you have additional questions, contact StaffDevelopment@llu.edu or call the Office of Staff Development at 909.558.3500.