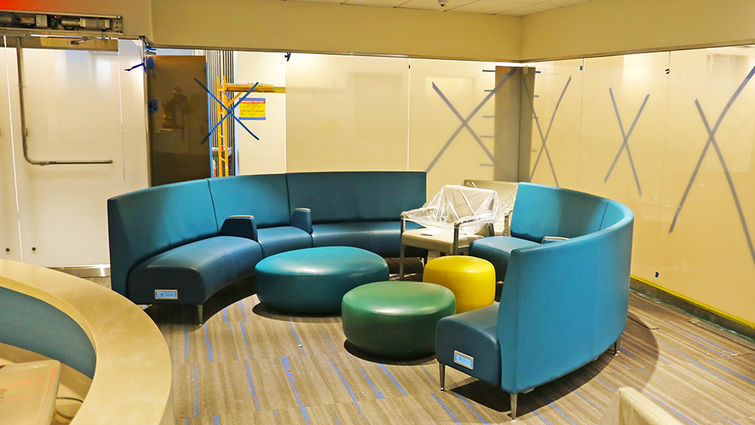 With the scheduled August 8 opening of the future Loma Linda University Health hospital towers approaching, much of the preparation efforts are now focusing on interior areas of the facility.
A growing number of rooms in the new adult hospital and Children's Hospital tower already have furnishings moved into place and are nearing readiness to receive the first patients on move-in day. The future hospital will be licensed for 320 adult beds, 84 pediatric beds, and 44 maternity beds. Each patient admitted to the future hospital will receive care in private, single-occupancy rooms. Because patients will no longer be sharing rooms, family members will have more opportunity to stay with their loved one overnight. Private rooms also reduce the risk of transmission of infections and increase patient safety.
Common areas in the structure — entrances, offices, playrooms — are designed to be welcoming spaces, giving patients and visitors settings that reassure, inspire confidence, and offer a space for healing.
The massive construction project is a part of Loma Linda University Health's Vision 2020 – The Campaign for a Whole Tomorrow, which announced a successful conclusion in late February. Incorporating the latest advances in patient care, the new facility will continue Loma Linda's 115-year legacy of outstanding care, anchoring the healthcare needs of a vast region of Southern California and serve as an educational and research hub to shape healthcare in the United States and around the world.
These photos are courtesy of Dennis E. Park, who has been documenting the hospital construction effort with regular posts on his blog, www.docuvision2020.com.