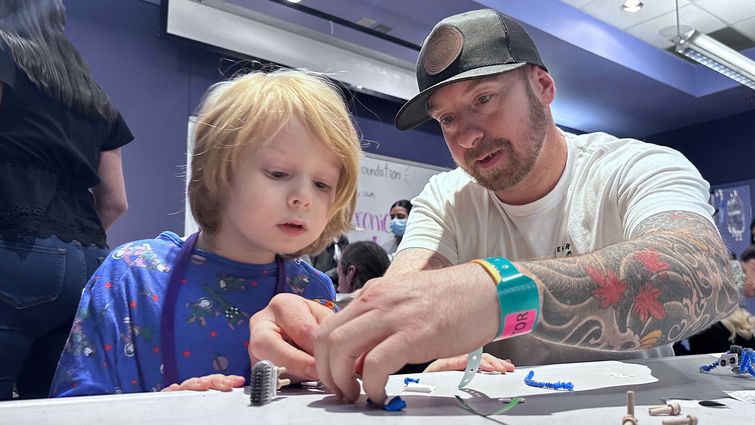 Loma Linda University Children's Hospital patients and their families had a chance to see, look, and feel a variety of animatronic creations up close on Wednesday, July 12.
The Garner Holt Foundation, recognized for its work in designing and manufacturing animatronics for major clients like Disneyland and Universal Studios, transformed a room in the hospital into an interactive space. Garner Holt, founder and president of Garner Holt Productions, Inc., was present at the event, bringing along two animatronic birds that brought joy and wonder to the young patients.
"It's a great thrill for us," says Holt. "The Garner Holt Foundation was created to work with underserved kids, foster kids, and kids in hospitals, and it warms my heart to bring the excitement that kids see in theme parks and bring our world to them."
One of the highlights of the visit was a STEAM workshop, allowing families to unleash their creativity by building a robotic creature called a BrushTronic Bug. There was also a video showcasing the intricate process of creating animatronics, allowing viewers to gain a deeper understanding and appreciation for the artistry and engineering behind these remarkable creations.
The Garner Holt Foundation's visit to Children's Hospital held significant meaning for one family. Michael Burke, 18, is a former Children's Hospital patient who was diagnosed with synovial sarcoma, a rare form of soft tissue cancer, at the age of 17. He underwent a year-long medical journey, which included surgery, chemotherapy, and radiation. Michael is now in remission and joined his parents on the Garner Holt Productions team as a tour guide.
During the visit, he expressed his gratitude for the opportunity to give back to Children's Hospital and share the magic of his workplace.
"I think the biggest thing I want to do is inspire kids going through the same thing as I was," said Burke. "Keep a positive attitude and keep smiling, no matter how difficult the journey may be."
The event highlights the resilience and strength of young cancer survivors like Michael, as well as the compassion and collaboration between healthcare professionals and community partners who go above and beyond to make a difference in the lives of their patients and create uplifting experiences for young patients.
"Being in the hospital can be one of the more challenging times," said Peter Baker, senior vice president and administrator at Loma Linda University Children's Health. "It's really amazing to see the reaction on the patient's face, what today means, the partnerships around child care, and bringing joy and happiness to our kids."