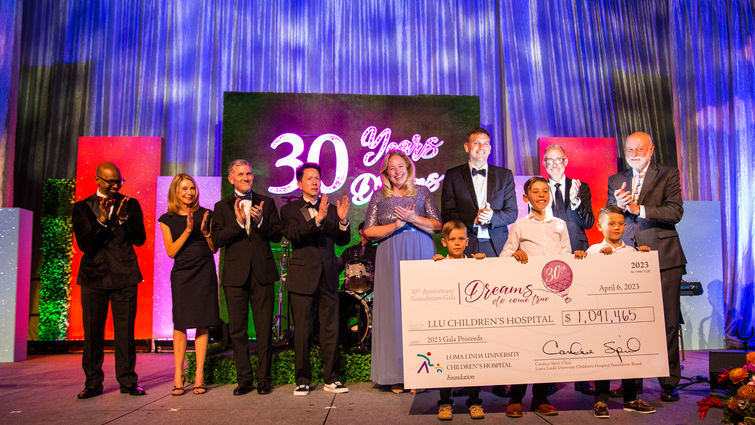 Local community members attended the 30th anniversary Foundation Gala presented by SAC Health at the Riverside Convention Center on April 6, raising more than $1.1 million to support the patients of Loma Linda University Children's Hospital.
The theme for this year's event was "Dreams Do Come True," with the aim of making a positive impact on the lives of children fighting life-threatening illnesses.
Peter Baker, senior vice president and administrator for Children's Hospital, said this year's event focuses on recognizing all who have been a part of the LLU Children's Hospital story since opening our doors in 1993.
"Some of the most significant moments in people's lives happen in a hospital, and many of those moments are yet to come," Baker said. "I consider it an immense privilege for Children's Hospital to be ready for those times and to work alongside our medical professionals as they demonstrate skill, expertise, and compassion for those who need it the most."
Four awards were presented to individuals or groups who have made significant dedications to the lives of children:
Ken and Sean Ramirez received the Shirley N. Pettis Award
Pete and Patsy Gillies received the Nancy B. Varner Lifetime Achievement Award
Cynthia H. Tinsley, MD, received the Dr. Leonard L. Bailey Outstanding Clinician Award
Thomas Kaney received the Hometown Hero Award
The evening included an emotional patient story that highlighted the hospital's impact on his life. Alex Parraga, 17, of Victorville, CA shared his medical journey, from diagnosis to treatment and recovery, and expressed gratitude to the hospital and its staff. His story is a reminder of the importance of the hospital's work and the impact that donations can make.
Children's Hospital has grown into a 380-bed facility with more than 225 pediatric physicians, including pediatric surgeons and sub specialty physicians, providing advanced and specialized care for the 1.2 million children living in San Bernardino, Riverside, Inyo, and Mono counties.
Click through the photos below for a visual recap of the event highlights.