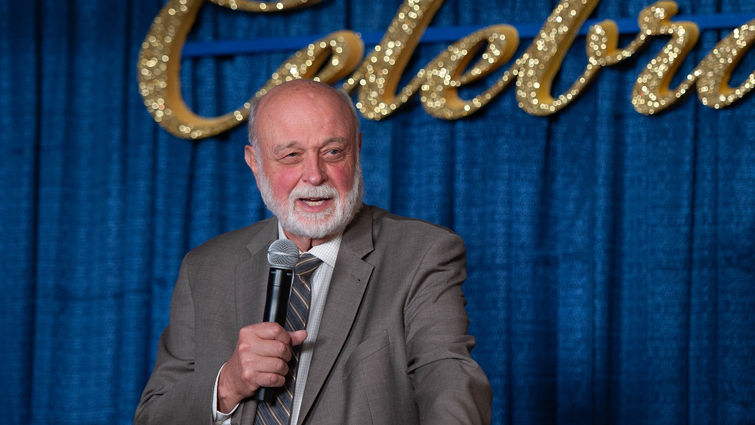 Loma Linda University Health leaders and community members celebrated the fifth anniversary of its San Bernardino campus this week, home to a community clinic and a health professional college that serves healthcare and educational needs in the Inland Empire.
 
Administrators and supporters marked the anniversary with stories of some of the 700 patients served daily and 500 graduates of the college since the campus opened in 2016. The campus is part of Loma Linda University Health's commitment to serving those in need locally and is the latest step in the development of the SAC Health network, which was started by the university's medical students in the 1960s.
 
Richard Hart, MD, DrPH, president of Loma Linda University Health, said the campus is more than a celebration of a building, but of people making a significant difference in the community.
 
"Loma Linda University Health believed that this new facility needed to be more than a clinic, because San Bernardino needs jobs and education just as much as healthcare," Hart said. "We designed this place in a way that provides healthcare to the region's underserved populations, while opening new educational opportunities for the many high school graduates who need new pathways to gain useful job skills."
 
The unique didactic environment at the San Bernardino campus brings together San Manuel Gateway College entry-level learners with Loma Linda University graduate students and medical residents, all training together to gain clinical skills through the SAC Health clinic — thought to be the first model of its kind in the nation.
 
The college was established with the support of a $10 million gift from the San Manuel Band of Mission Indians.
 
Jacob Coin, executive adviser to the chairman at San Manuel, shared with attendees the unique history between the tribe and Loma Linda University Health. The longstanding relationship goes back more than 100 years ago when doctors traveled on horseback to help the people of San Manuel deliver babies and provide other health care services.
 
"It is that kind of gesture, that kind of outreach, and that kind of service that the people at San Manuel have never forgotten," Coin said. "The tribe is going to continue to be a partner and continue to make commitments and become involved in the wonderful projects that you [Loma Linda] put together."
 
Pat Morris, former mayor of San Bernardino, thanked Loma Linda University Health leaders and partners for helping to make the campus possible, including San Manuel, the San Bernardino School District, and the SAC Health. The collaboration, he said, "has created a whole dynamic and new opportunity for graduates from our local school system."
 
Testimonies by students such as Jimena Leon, shared at the five-year celebration, pay testament to the impact San Manuel Gateway College has had on people's lives.
 
Leon's parents brought her to the United States when she was 7 years old. When she graduated from high school, college was not an option because she had to act as the sole provider for her household. "God brought this program into my life at a time in need," she said. Leon has completed the Medical Assistant program and is now certified to perform administrative and clinical duties.
 
This campus was developed with the intention of helping an underserved city. One patient and one student at a time, SAC Health and San Manuel Gateway College will continue developing successful futures for many while providing healthcare to individuals who lacked access before, leaders said.
 
"The Lord has blessed, and it's almost like the vat of oil, and the little crucible of flour [1 Kings 17:16] — We don't get more than we need, but we get enough," said Arwyn Wild, executive director of San Manuel Gateway College. "There's nothing more satisfying than transforming a life."
Read more about San Manuel Gateway College at https://news.llu.edu/academics/ceremony-empowers-first-graduates-of-san-manuel-gateway-college-community-faculty.