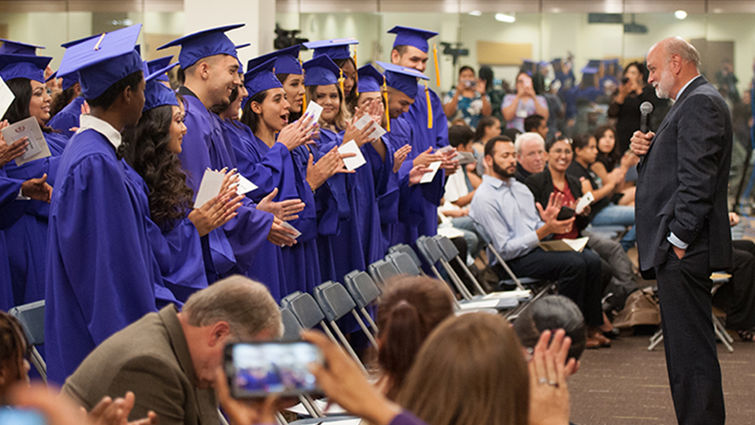 At the site of what was a desolate patch of dirt less than three years ago, 34 students graduated from San Manuel Gateway College on June 7 — the first class to receive a Loma Linda University education in the city limits of San Bernardino. Twelve students received medical assistant certificates, and 22 received certification as community health workers.
San Manuel Gateway College was established to give young people in San Bernardino and the Inland Empire a future beyond high school that also empowers them to serve their under-served community.
Classes for the medical assistant program began in September 2016, just two months after the ribbon-cutting ceremony of its facility, Loma Linda University Health – San Bernardino, which is also home to affordable healthcare provider SAC Health System.
Additionally, in February of this year, the Community Health Worker/Promotores Academy — a partnership between Loma Linda University and El Sol Neighborhood Education Center — moved its home to San Manuel Gateway College, leading to the combined graduation ceremony.
Commencement speaker Richard Hart, MD, DrPH, president of Loma Linda University Health, noted that San Manuel Gateway College was built without a blueprint, from scratch, in a world that had never used this educational model before.
A training ground like no other
The unique didactic environment at the San Bernardino campus brings together San Manuel Gateway College entry-level learners with Loma Linda University graduate students and medical residents all training together to gain clinical skills through the SAC clinic — "the laboratory that makes this place go," as Hart described SAC.
Joining in a long line of officials eager to shake each graduating medical assistant or community health worker's hand were Tribal Secretary Ken Ramirez, Chairwoman Lynn Valbuena and Treasurer Sabrina Le Roy from the San Manuel Band of Mission Indians. Without the Tribe, the college may not have come to fruition. They gave $10 million to Loma Linda University Health to help bring San Manuel Gateway College into existence. Additional indispensible partners and dreamers in the project are San Bernardino City Unified School District and the city of San Bernardino.
But the evening's most celebrated stars were the future community health workers and medical assistants.
Neery Velazquez, one of the medical assistant graduates, said that the "Gateway" part of the college's name aptly describes the way it helps them: opening a passage to opportunities they couldn't have encountered any other way.
The students, though, took the hard steps of walking through that door. They had to learn how to study for the first time in their lives, invest in spending all day at school, and learn to work with patients.
All the while, the struggles of real life continued. One graduate, for example, sustained a spine injury during the school year and had to take time off to regain walking. A young woman earned her certificate while also caring for her young daughter and son.
Filling a gap
Many of the students' experiences include growing up in tough areas. President Hart said that life has given them scars they will carry with them.
"But scars also strengthen a person," he told them. "And you all bring strength to what you are doing."
Their life experience gives the new medical assistants and community health workers the ability to connect with patients from diverse, low-income backgrounds. The graduates can fill a gap in the healthcare continuum that the sick too often fall through, Hart said.
About 50 percent of patients, he explained, leave the doctor's office and then never follow through with orders, such as taking prescriptions or getting lab tests. These newest graduates of Loma Linda University can help provide the support that enables patients to comply with their care plans, Hart said.
"You are now community faculty of Loma Linda University," he said.
One of the newly minted community faculty members is Ron Oden, a former mayor of Palm Springs, who received his community health worker certification in order to better equip him for his retirement personal mission: training other community health workers through the Desert Highland Gateway Estates Health and Wellness Committee, which exists to enhance opportunity for members of that historically Black, underserved community in the Coachella Valley.  
Service, Oden said, is what life is really about.
Oden and his 33 fellow graduates acknowledged members of their families and communities who supported them throughout their training at San Manuel Gateway College. During the ceremony, the graduates presented yellow carnations, as well as hugs and loving words, to their friends and family sitting in the audience.
Holding one of those carnations at the reception ceremony was Jaime Velasco, husband of community health worker graduate Adriana Valero. Watching the culmination of her effort, he said, "I actually felt something that I never felt before. … It brought tears to my eyes."
The emotions spill out
Tears came to many an eye during the ceremony. San Manuel Tribal Secretary Ken Ramirez and Chairwoman Lynn Valbuena, along with Arwyn Wild, MA, executive director of San Manuel Gateway College, acknowledged the emotion of the evening.
"What uplifts me is the fortitude and tenacity of these students," Wild said. "To see and hear them talk about their dreams is so encouraging."
Secretary Ramirez and Chairwoman Valbuena helped usher the dream of the college into existence, seeing it grow from a concept to a construction project to this first graduation.
Ramirez recalled, "We started this dream with the community in mind, to offer an educational component like no other. Teaming up with Loma Linda University has helped us to do that. To see the graduates finish their program today was exciting. The safety net that we're trying to build in San Bernardino starts with the young people."
He continued, "As a Tribe, we value giving back to the community. It's not just about us or the reservation; it's to build the community as a whole. This is our home, and if anybody is going to be here for thousands of years to come, it will be us and Loma Linda University Health."
Tribal Chairwoman Valbuena described looking into the eyes of each graduate as she shook their hands to congratulate them.
"They were very, very happy but also serious about their achievements and futures," she said. "It was so nice to share that moment with them."
Many of the graduates said the evening was a beginning, not an ending. All 22 community health workers are staying on at San Manuel Gateway College to gain additional specialization, and the medical assistants expressed plans to gain working experience and take prerequisite courses for further education to become nurses or physical therapists or anything they want.
"We know that this is just the start," Wild said. "They can do so much more."
Concluding his commencement address, Hart charged the students: "Now you are health professionals, and let me tell you: we need help — big time. We need help.
"We need to stand shoulder to shoulder, all of us together, to provide that help. So thank you. Congratulations."
What's next for San Manuel Gateway College
The plans are fast growing for the college's expansion. Starting this fall are at least two new medical certification programs: nursing assistant and pharmacy technician, as well as the second cohort of medical assistant students. A surgical tech program will begin in January 2018.
Additionally, the college's Community Health Worker/Promotores Academy will continue to expand.