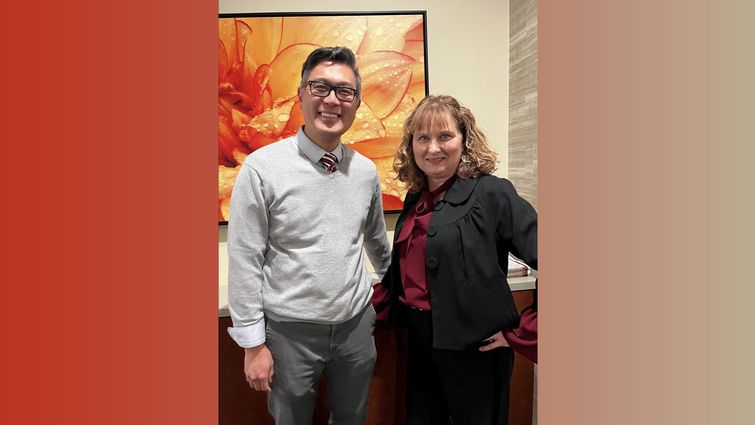 A $2.5-million grant was awarded to Loma Linda University School of Medicine's Department of Family Medicine to help address the U.S. mental health crisis by training family medicine residents to identify, diagnose, prevent, and treat mental illness through integrated programs and clinical rotations.
Hobart Lee, MD, associate professor of family medicine, and Kelly R. Morton, PhD, professor of family medicine and professor of psychology, were awarded the five-year Health Resources and Services Administration Primary Care Training Enhancement Grant entitled "ICARE: Integrated Care to Achieve Resilience with Engaged teams."
The ICARE team is responding to a brief by the American Association of Medical Colleges (AAMC) stating that mental health care is unavailable for most Americans, though 21% of the population in 2020 had a diagnosed mental illness, according to the brief. In adults, there has been a 30% increase in mental illness over a decade, with high prevalence rates after the pandemic.  
"Most patients present for mental health care to their primary care providers as their first and only option, and many are underprepared to meet their needs," said Dr. Hobart Lee. "This grant provides our family medicine residents the additional knowledge and resources to help patients in the future."
In addition, U.S. health officials expressed great concern over a mental health crisis in youth, with 41% of high school students reporting persistent sadness before the pandemic, according to the Centers for Disease Control and Prevention. 
The grant will enable residents to receive online micro certification in the Primary Care Behavioral Health Model (PCBH), which promotes high levels of patient and physician access to behavioral health. This model will increase the mental health care and triage to specialty mental health pathways.
"Our goal is to dramatically increase the rate of mental health care for a population of patients to create highly functional teams to address the whole person in care pathways," said Dr. Kelly Morton. "We continue to strive to improve the health and mental health of the patients in our underserved region in the Inland Empire and to produce a pipeline of family physicians and psychologists trained in integrated behavioral health."
ICARE will also enhance family medicine residency training with case-based didactics, new rotations at the Loma Linda University Behavioral Medicine Center and in integrated primary care teams at a Jerry L. Pettis Memorial Veterans' Hospital, as well as new PCBH teams in the family medicine in-patient hospital service and the SACH Norton MAT clinic. 
Finally, ICARE will help improve PCBH teams at the SACH family medicine residency continuity clinic with psychologists and lifestyle medicine fellows along with Loma Linda University School of Behavioral Health psychology doctoral trainees.