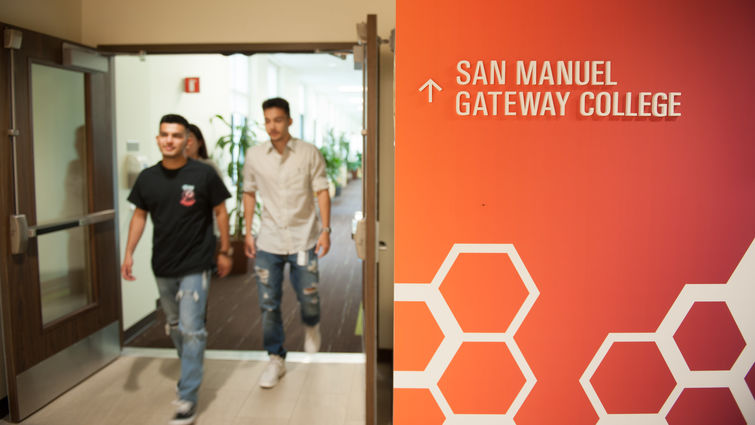 San Manuel Gateway College has received a federal grant of $3 million to train more than 200 community health workers/promotores (CHW/P) — liaisons between clinical workers and vulnerable populations. According to school leaders, the funding will provide a significant boost for patients and community members in the region as well as the profession itself.
The grant, awarded last month, is from the Health Resources & Services Administration, an agency of the U.S. Department of Health and Human Services. The grant is for $1 million a year for three years, funding that will enable training for up to 75 CHWs a year — doubling the school's number of current annual graduates.
"This grant is a gamechanger for this region, because the major barrier of the cost of training has now been removed for many people who otherwise wouldn't be able to train to become a community health worker," said Arwyn Wild, MA, executive director of San Manuel Gateway College.
CHWs often serve as health coaches for patients struggling with negative social determinants of health, including unemployment, food insecurity, lack of housing, and safety issues. CHWs also have a deeper understanding of a patient's culture and are able to help both the patient and healthcare provider determine underlying risk factors to create a more comprehensive treatment plan. Payors increasingly recognize the work of CHW's, which often reduces unnecessary hospitalizations and lowers healthcare costs.
While still a profession gaining recognition, more healthcare systems are examining the role that CHWs could play, especially in California. The state recently passed legislation that gives billable hours for CHW services for Medi-Cal patients through Medi-Cal managed care health plans.
Loma Linda University Health now employs 11 CHWs across its multi-hospital system, a number set to double within a year. San Manuel Gateway College, owned and operated by Loma Linda University Health, has graduated more than 300 CHWs since it launched in 2011.
Wild said the CHW program has previously received interest from numerous candidates who encounter challenges to enroll because of lack of funds, even when scholarships and other fund sources were available, but limited. The college is now reaching out to those candidates as well as school partners and community-based organizations to identify additional candidates who may be interested.
The grant has enabled school leaders to hire additional staff to support the upcoming influx of students. The next round of applicants eligible to use grant funds will begin their studies in January. Wild said he expects applicants from Los Angeles, Coachella Valley, Riverside, San Bernardino, and Antelope Valley.
Various federal estimates report more than 50,000 CHWs are employed today, yet Wild said it's difficult to pinpoint that figure because they often go by different names, depending on their place of training or specific job title. They can work in hospital, school, or community settings. Many successful graduates enter training with little or no formal higher education. Many want to serve their own communities.
For Silvia Ortega, completing CHW training was an extension of the volunteering she was already doing. Upon graduation, she went to work for Loma Linda University Children's Hospital and visited the homes of up to five patients a day. She describes CHWs as "rootologists."
"We get to the root of the issue," she says. "If we don't get to the root of the issue, healthcare is a guessing game."
Ortega came to the CHW training program after suffering her own physical and mental health issues. After graduating, she would often share her life experiences with some of her patients when she felt it could be an inspiration to them.
"We know the community. We know their needs," she says. Today, Ortega is an instructor in the program.
For more information, visit llu.edu/communityhealthworker.