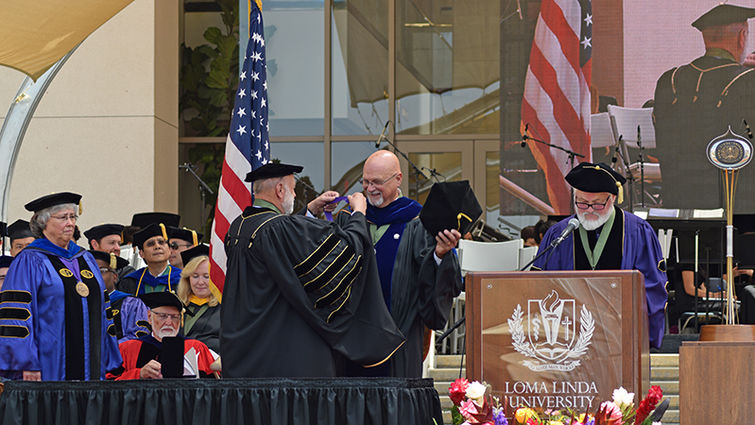 Family, friends, faculty, honored guests, and—of course—graduates gathered under the awnings on the central campus mall looking south toward Coleman and Chan Shun pavilions on Sunday, May 29, beginning at 1:30 p.m.
The class of 2016, comprising 77 graduates, followed the president's party and professors to their seats of honor, enthusiastically cheered by family, friends, and fellow graduates.
William "Billy" Hughes, PhD, immediate past dean of the School of Pharmacy, received the University Distinguished Service Award during the ceremony. Caroline Nguyen, PharmD, a 2011 graduate of LLU School of Pharmacy, was named School Alumna of the Year. Nguyen currently serves Cedars-Sinai Medical Center, Los Angeles, as an administrator, researcher, and student preceptor.
Nancy Kawahara, PharmD, MSEd, associate dean for assessment and professional affairs as well as associate professor of pharmacy practice, School of Pharmacy, received the School Distinguished Service Award. Kawahara is the longest-serving member of the current school faculty.
James Pinder, JD, MBA, assistant professor of pharmaceutical and administrative sciences, School of Pharmacy, received the School Community Service Award for his work the Rotary Club. After serving as president of the Redlands Rotary Club, he became an assistant governor, responsible for three area clubs. Presently he serves as member and assists in fundraising for a major focus of the Rotary Club—the worldwide eradication of polio.
Gerald Winslow, PhD, founding director of the LLU Institute for Health Policy and Leadership, provided the commencement address, titled "On Being a Whole Pharmacist." Winslow is also an associate scholar for the LLU School of Religion's Center for Christian Bioethics, as well as professor of religion and a professor of public health in the LLU School of Public Health.