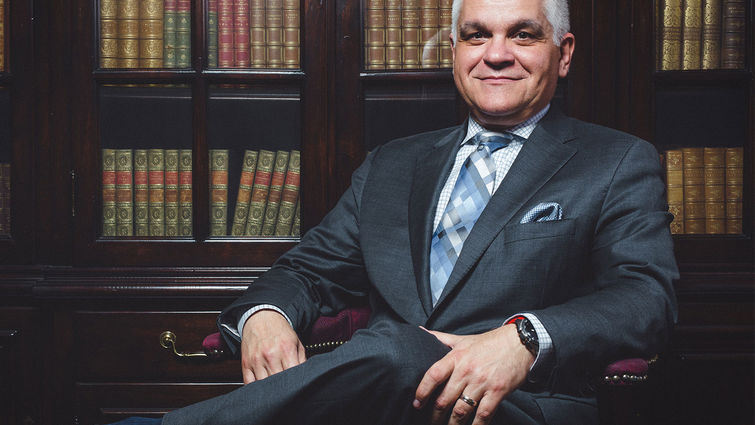 Biotech attorney and physiology researcher Michael Samardzija, JD, PhD, MS, has worked as a partner in some of the world's largest and most prestigious law firms. Now he's focusing on work in a small, non-descript house across the street from Loma Linda University Medical Center.
The unassuming building at 11219 Anderson Street is Loma Linda University Health's new incubator, which Samardzija established to turn medical research into businesses that can help bring health and healing to as many people as possible.
"We're wanting to help create a culture of innovation that can benefit more patients and the medical staff who treat them," says Samardzija, who came on board with Loma Linda University Health in February of 2016 and now serves as associate vice president for research affairs.
The new center, established in October 2016, is called n3eight. The cryptic name translates from scientific notation as "n-cubed eight" or "incubate," and describes what goes on inside — the creation of new companies that will develop innovations into products and deliver them to patients and physicians, all while creating new jobs in San Bernardino County.
Samardzija says incubators can act as training wheels for businesses that would otherwise crash without enough capital, staff, lab space or infrastructure. Requirements for bringing products to market are often greater in the biotech sector than other industries.
"To get FDA approval, you need data, and to get data, you need cash. Big companies don't want to take the risk," he says. Incubators, he says, can produce data at a much lower cost.
The ventures at n3eight range from making illuminated pedals for use in surgery to diagnosing age-related macular degeneration to a device that will provide for better crowns and dental implants. The startups have names like Vis, StemRex and Elf Zone.
Altogether there are eight companies so far, and Samardzija says this is just the beginning.
"This work, I believe, can help us spread our message of healthful living," he says, referring to Loma Linda University Health's mission. The denomination has since its founding emphasized health to enhance happiness, well-being and ability for service. 
Samardzija, a longtime patent attorney who is fluent in French and Serbo-Croatian, says he hopes a greater showcasing of Loma Linda University Health's innovation in the marketplace will serve as a spotlight on the work now being conducted in the organization's labs.
Originally from Belgrade, in what was then Yugoslavia, and the son of a Seventh-day Adventist minister, Samardzija moved with his family at age 3, first to Paris, where his father pastored a Yugoslavian church, and then years later to Brooklyn, New York.
He knew early in life that he wanted to be in the field of medicine. But it wasn't until he was in college, when he volunteered for six months in a hospital emergency room at Bellevue Hospital in New York, that he realized he wanted to become a researcher instead of a physician.
He graduated from Brooklyn College in 1987 with a bachelor's degree in sports medicine and headed west to Loma Linda University, where he earned an MS degree in exercise physiology and later a PhD in physiology. He then worked as a post-doctoral fellow and researcher at the University of Pennsylvania and at universities throughout Southern California.
Samardzija and his wife, Maja, eventually moved to San Diego, where he went to law school and acquired several honors, including an oratory award. He graduated from the University of San Diego School of Law in 2001 and went to work in San Francisco as a lawyer.
It was there that a seminal event in his life taught him the importance of preparation. In 2002, the Bay Area dot-com bust was at its height, and he was laid off on his birthday.
"Here I was, in one of the most expensive cities in the United States, unemployed and in danger of going bankrupt. Thousands of lawyers were also out of work at that time," he recalls.
But Samardzija was prepared, having already compiled a list of some 3,000 biotech companies and law firms and applied to each. He secured five interviews and received one offer — as the in-house attorney for a pharmaceutical startup. He helped prepare the company for an initial public offering by the time he left.
He then worked as director of intellectual property at MD Anderson Cancer Center in Houston before working as a partner in several top-tier law firms, largely focusing on patent applications and infringement litigation.
Things were going well professionally, but Samardzija felt he was traveling too much and wanted to be home more with his wife and teenage boys.
"I was getting tired of being an absentee dad," he says.
Samardzija no longer has an office in a skyscraper with an expansive view of the city skyline of Houston or the Bay Area, but he says he's extremely fulfilled working at Loma Linda University Health. Even during his job interview with executives, he pushed the idea of innovation and gaining greater publicity for the institution and its potential products.
"The great thing about this work is that we can make a difference in people's lives," he says. "We're going to get the word out.