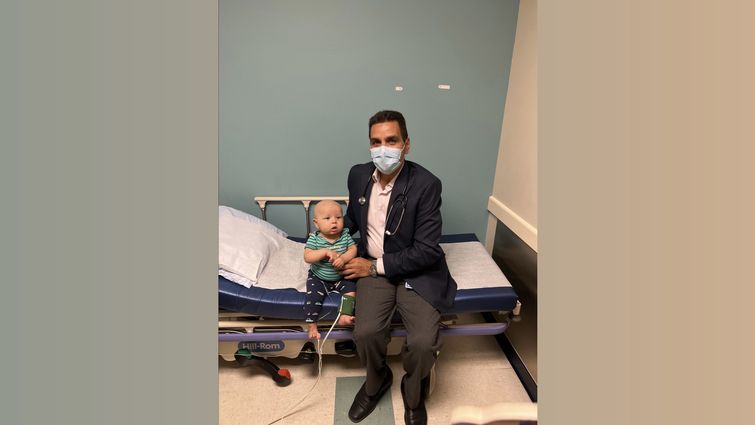 A recently published study reveals that a new approach to blood and marrow stem cell transplantation improves outcomes in pediatric patients with hematological malignancies. The method, known as KIR-favorable TCR-αβ/CD19-depleted haploidentical hematopoietic cell transplantation, showed improved post-transplant outcomes in children diagnosed with acute lymphoblastic leukemia (ALL), acute myeloid leukemia (AML) and myelodysplastic syndrome (MDS).
Children diagnosed with acute leukemia of all backgrounds will benefit from the new method, especially patients from minority populations — Hispanic, Black, African American, and mixed-race. Patients from minority backgrounds often experience difficulty obtaining suitable matched donors for stem cell transplants from registries. More than half of the enrolled patients in the study were from ethnic and racial minorities. This approach is readily available to minority populations who otherwise have limited donor options, says Hisham Abdel-Azim, MD, MS, the study's last author, chief of the division of transplant and cellular therapy (TCT) at Loma Linda University Cancer Center, and professor of Pediatrics, Medicine and Basic Sciences at Loma Linda University School of Medicine.
The method involves finding donors who are half-matched genetically to the recipient — usually a parent or sibling — and who also possess natural killer (NK) cells in their immune systems capable of attacking leukemia cells. Using donors who are related to patients — and therefore more readily available — opens a door for patients who may otherwise have had to wait a longer time for a transplant from an unrelated donor, Abdel-Azim says.
"Long waits are challenging for patients with hematological malignancies," he says. "The disease could progress or recur by the time it takes to find a suitable donor. Using half-match donors removes that delay factor and provides timely treatment."
Out of the potential donors who are a half-match for the patient, Abdel-Azim and the authors selected a KIR-favorable donor and engineered their stem cell graft. From the donor's graft, researchers eliminated T cells that would attack the recipient's normal cells and enriched for T cells that would attack the recipient's leukemia cells.
This method of graft engineering further improved the patient's chances of long-term survival, decreased post-transplant complications such as graft vs. host disease, and minimized the need to use immune suppressive medications after transplant. A KIR-favorable donor is someone whose NK cells can provide an anti-leukemic effect once transplanted into the patient. Utilizing this approach also allows some patients to undergo less intense chemotherapy or radiation regimens than those from traditional treatment regimens.
"Engineering the graft in combination with using half-matched and KIR-favorable stem cell donors minimized the need for patients to receive post-transplant immunosuppression while improving the anti-leukemic effect," Abdel-Azim says. "It reduces long-term side effects and toxicity on the kidney and other organs."
Abdel-Azim and his colleagues published the study in Blood, the Journal of the American Society of Hematology. They drew their findings from a multi-center phase II clinical trial, ONC1401. Twelve institutions participated in the trial and 51 patients between the ages of about 8 months to 21 years received this treatment.
Authors compared clinical trial patients' responses to treatment with the outcomes of pediatric patients with hematological malignancies who received standard treatment as recorded by the Center for International Blood and Marrow Transplant Research (CIBMTR). Abdel-Azim says this study is the first to perform such a head-to-head comparison of outcomes of this new approach with existing reports about the standard method for stem cell transplantation.
"We not only reported the outcomes, but we also compared them," Abdel-Azim says. "In doing so, we demonstrated that this approach achieved superior outcomes in terms of decreased post-transplant complications such as graft versus host disease and maintaining similar disease-free and overall survival."
Abdel-Azim previously presented the preliminary findings of this study in the plenary session of the 2021 annual meeting of the American Society for Transplantation and Cellular Therapy.
Past single-center studies conducted in the U.S. and Europe have also reported on this promising approach. Abdel-Azim says this paper helps bolster such findings with its multi-center scope, large cohort for a pediatric population, and head-to-head comparison between this newer method and standard treatment approaches.
Abdel-Azim says findings are already applicable to the clinical setting. In addition, LLU Cancer Center's division of transplant and cellular therapy is currently anticipating the completion of a stem cell processing and graft engineering laboratory that will enable such treatments to be offered to patients in the region.
Future research should continue exploring other methods of graft engineering and seeking answers to lingering questions, Abdel-Azim says. For instance, how can outcomes like survival rates be improved even more, or how can treatment intensity be further decreased? In the meantime, Abdel-Azim says this study takes an important step toward improving outcomes for pediatric patients with hematological malignancies requiring stem cell transplants — results would likely be applicable to older patients.
"Our study shows how this new technological approach to stem cell transplantation presents a good option for prolonging and improving the lives of children facing blood cancers," Abdel-Azim says.
---
To learn more about research at LLU, visit researchaffairs.llu.edu or call 909-558-8544.