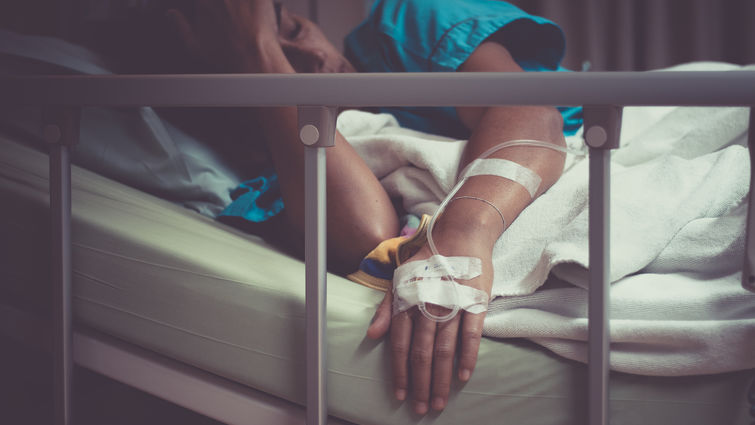 The COVID-19 pandemic has negatively impacted high-risk disease groups so far, especially sickle cell disease (SCD) patients, based on both existing national and international publications, as well as new local data.
A recent study published December 2021 in the American Society of Hematology's medical journal Blood — conducted by experts at Loma Linda University Health — explored the impact of the pandemic on healthcare utilization for those with SCD in Southern California.
Results demonstrated strong trends of fewer patients seeking timely care for complications from their disease, known as acute SCD crises, instead trying to manage those complications at home. These actions ultimately resulted in fewer hospital visits but more severe outcomes — especially in the adult SCD patient population. Treatments for acute SCD events often involve patients needing blood transfusions to provide a normal red blood cell count or receive management of pain, a hallmark of SCD, through IV opioids.
The researchers analyzed inpatient care utilization for adult and pediatric SCD patients at Loma Linda University Medical Center and Children's Hospital, dividing the study into three time points between September 2019-February 2021. These specific time points allowed for comparisons between pre-COVID-19 metrics and ongoing pandemic metrics. According to the study, the retrospective examination included looking at emergency department visits, inpatient admissions, length of stay, readmission rates, blood product utilization, and opioid utilization.
Akshat Jain, MD, MPH, one of the primary authors of the study and section head for pediatric hematology at Loma Linda University Children's Hospital, says he and his team saw trends with SCD patients at the onset of the pandemic and wanted to prepare.
"We knew the impact wasn't going to end in 2020 or even by summer 2021," he says. "By knowing these trends in healthcare utilization, we can prepare further for continued waves of COVID-19 and how it will affect our patients in the Inland Empire."
The study refers to the Inland Empire as one of the "densest hot spots for patients living with SCD" due to disease burden and healthcare utilization.
While the IE is a hot spot for SCD, Jain says those with SCD across the nation have also been significantly impacted. "Sickle cell disease patients are 10 times more at risk of being hospitalized due to COVID-19 as compared to anyone else," he says. "About 11% of those patients needed hospital ICU-level care because they became so sick from sickle cell-related COVID-19 complications, and about 7% of those patients died."
According to the study, some of the next steps to help COVID-19's negative impacts on SCD patients include "infrastructure around better outpatients support and timely access to inpatient care even during the pandemic."
"Our hope is by healthcare professionals looking at this study, it will be helpful for other comprehensive programs in this region and beyond, not only for understanding the impact on sickle cell disease but for other life-threatening disorders and immunocompromised patients who are amid this pandemic," Jain says. "I also strongly encourage patients in the sickle cell community to utilize existing tools, such as available vaccines, to combat negative COVID-19-related sickle cell crises."