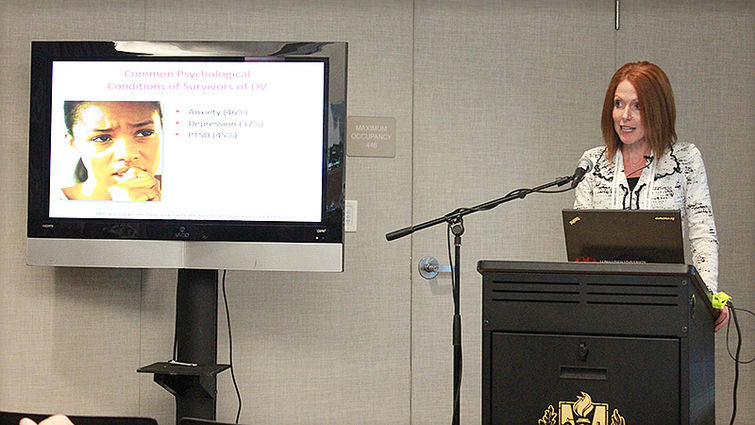 The depth of research quality occurring in Loma Linda University Health's eight schools took center stage at a four-day research symposium, held as part of the 2017 One Homecoming weekend.
Researchers from the schools, centers and institutes filled the fourth floor of the Centennial Complex, with poster presentations and lectures taking place throughout the One Homecoming celebration.
A diverse set of researchers presented highlights of their work during lunchtime lectures each day. Presentations from March 2-6 included: 
Heather Javaherian-Dysinger, OTD, OTR/L, School of Allied Health Professions, shared her work in understanding the health effects of women who experience domestic violence. Javaherian's previous research found health management is a significant challenge for women in abuse situations. Her current research involved teaching a lifestyle improvement course to shelter residents, seeking to bring evidence-based health information to a significantly underserved group.
"Interviews with the residents revealed they enjoyed the classes and wanted them to continue," Javaharian said. "They felt more aware of their health, and that they learned practical ways to make healthier choices."
Montry Suprono, DDS, School of Dentistry, discussed his current research in two types of dental materials — elastomeric and non-elastomeric impression materials, and soft denture liners. Suprono research on impression materials focuses on dimensional stability.
"This is important as it has a direct and compounding effect in dental restorations such as crowns, bridges and dentures. So far the materials I've tested are within acceptable ranges of stability."
Suprono's focus on soft denture liners examines the possibility of microbial penetration into the liner material. While early in his research, Suprono reports that there is microbial penetration, but he plans to do additional measurements.
Kimberly Payne, PhD, School of Medicine, described her work to develop therapies for a particularly deadly type of leukemia that occurs more frequently in Hispanic children.
"A key to developing therapies for this disease is developing a disease model where Hispanic children's leukemia cells injected into mice behave like they would in the patient," Payne said. "We have made progress in developing that disease model." Payne is now testing drugs to determine if they would be effective in attacking leukemia.
Ike De La Pena, Phd, School of Pharmacy, reported on his research using Granulocyte-colony stimulating factor (G-CSF) to extend the amount of time available to treat ischemic stroke victims. The only currently FDA-approved medication to treat stroke patients is tissue plasminogen activator (tPA), which when given more than 4.5 hours after a stroke onset produces negative side effects. De La Pena is testing using G-CSF in conjunction with tPA.
"The two drugs administered in combination extends the time window to treat stroke patients to six hours," said De La Pena, "and stroke side effects are  significantly reduced when G-CSF was administered together with tPA."
Ryan Marais, MA, School of Religion, is part of a team that includes Whitney Braun, PhD and Alex Dubov, PhD. They are focusing on the ethics of healthcare in the American prison system. Specifically, the team is collecting case studies of individuals who have committed crimes to get into prison to have access to healthcare, or who have committed crimes to return to prison to continue healthcare they had been receiving.
"Our research will add to the discussion of whether or not it is ethical to constitutionally guarantee healthcare to prisoners (via the Eighth Amendment) only to strip them of that right as soon as they're released," Marais said. "We will present our research at two conferences in Paris this summer.