Lubo Zhang, PhD, director of the Center for Perinatal Biology at Loma Linda University School of Medicine, responds to a question from Jim Steinberg, a reporter for the San Bernardino Sun newspaper, during the March 29 press conference to announce the $6.29 million program project grant recently awarded to the center.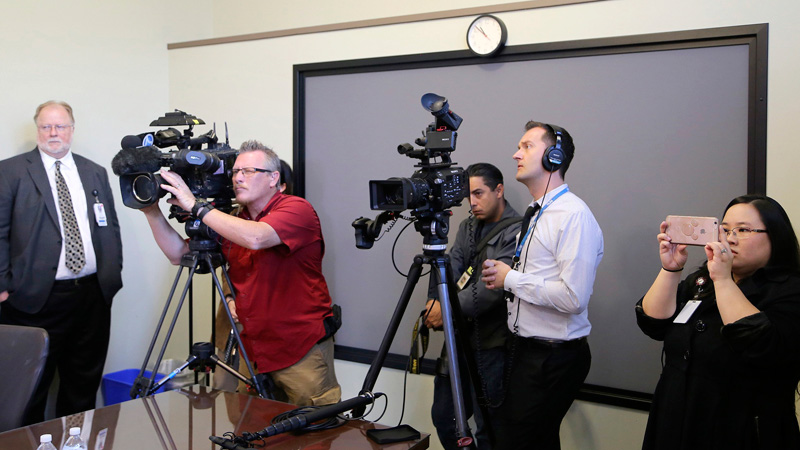 Researchers from the Center for Perinatal Biology at Loma Linda University School of Medicine (LLUSM) held a press conference on Tuesday, March 29, to announce the news that the Eunice Kennedy Shriver National Institute of Child Health and Human Development (NICHD), an NIH entity, recently awarded them a $6.29 million program project grant (PPG) to continue their groundbreaking studies into the effects of hypoxia, or oxygen deprivation, on pregnant women and their offspring.
In introducing "the world-renowned scientists of Loma Linda University" to reporters from ABC7 News and the San Bernardino Sun, Garrett Caldwell, DMin, executive director for public affairs, noted that "they strive to advance the understanding and care of human health in order to fulfill the institution's mission 'to make man whole.'"
Caldwell then introduced Lubo Zhang, PhD, director of the center and principal investigator (PI) on the PPG; Ravi Goyal, MD, PhD, assistant professor of pharmacology; William Pearce, PhD, professor of physiology; and Charles Ducsay, professor of physiology. After brief statements from each of the four researchers, reporters asked questions and a lively exchange ensued, lasting nearly 45 minutes.
Although he was not able to attend the press conference, Representative Pete Aguilar of California's 31st congressional district, said the grant is good news not only for the university, but also for the Inland Empire economy.
"Loma Linda University Health's role as both a medical services provider and a leader in research and discovery puts our region at the forefront of the health care industry and the 21st century economy," said Rep. Aguilar.
The center has been continuously funded the past 20 years through five-year renewals of the original PPG. However, when center officials—including the late Lawrence D. Longo, MD, legendary founder of the center—applied for the next five-year renewal in May 2014, the NICHD informed them in December 2014 that the application had not received a fundable score.
Undaunted, Longo, Zhang, and the team carefully reviewed the NICHD comments and invested several months in revising the application, which was resubmitted in May 2015. In November of that year, they were informed that their 417-page revised application had received a score of 10 with a percentile ranking of 1; in other words, a perfect score.
"I never heard of anyone getting a perfect score for a PPG application before," Zhang said, adding that while he has personally received perfect scores on two R01 grant applications, achieving a perfect score on the much-larger PPG application is a very rare accomplishment. "I'm not saying there has never been a perfect score on a PPG before, but if there has, I've never heard about it."
Zhang explains that PPGs differ from the far more common R01 grants in three significant ways. First, PPGs are awarded to multiple investigators at a recognized research center working on a cluster of multiple studies organized around a singular theme. R01s, on the other hand, are awarded for a single study and often involve only one or two investigators. Second, PPGs involve much larger budgets. Third, they are far more desirable and cost-effective for supporting large-scale research.
Fortunately, Longo learned of the perfect score two months before his death in January of this year. It was a fitting culmination to his remarkable career.
"Gestational Hypoxia and Developmental Plasticity," the title of the PPG, refers to how oxygen deprivation during gestation alters a developing fetus's ability to adapt to challenges imposed during processes of development and growth.
The grant will fund four separate but related projects, and while Zhang is the PI on the overall PPG, each of the four will have its own PI. The goal of the four studies is to collectively explore the fundamental physiological, biochemical, cellular, and molecular mechanisms triggered by gestational hypoxia on maternal health, fetal development, and chronic disease later in life.
Zhang explains the long-term implications of oxygen deprivation by pointing out that over the last several decades, several chronic diseases—including obesity, type II diabetes, insulin resistance, cardiovascular disease, and other metabolic, cognitive and behavioral disorders—have increased exponentially to reach their present epidemic levels in the United States.
"The concept of fetal stress and developmental programming of chronic disease is well-accepted," he explains, " but the mechanisms by which they work have long been missing links. Until now, we haven't understood what switches in the developing fetus are turned on or off by the mother's diet or stress levels during pregnancy. Nor have we known how they alter developmental plasticity and increase the risk of chronic disease for her child later in life. We hope to find out with this research."
Zhang identifies developmental plasticity as the unborn fetus's ability to adapt to less than ideal conditions, such as hypoxia from high altitude or maternal smoking. He calls hypoxia "perhaps the most important and clinically relevant of all the stresses to which the fetus and newborn infant are subjected. Clinical hypoxia has profound adverse affects on maternal health and fetal development.
"Worldwide, more than 140 million people live at risk of hypoxia at high altitude," Zhang observes. "For more than two decades, researchers at the Center for Perinatal Biology at Loma Linda University Health have conducted studies that examine systemic adaptations of the mother and fetus to high-altitude, long-term hypoxia."
Roger Hadley, MD, dean of LLUSM, welcomed the grant that got the perfect score.
"I'm very pleased to share this exciting news," Hadley observed. "It's external validation of the quality of our researchers and their work, placing us among the elite research institutions around the world."
Representative Aguilar ended on a congratulatory note.
"I commend Dr. Zhang, his staff, and the entire Loma Linda University Health team on this important accomplishment," Aguilar observed.