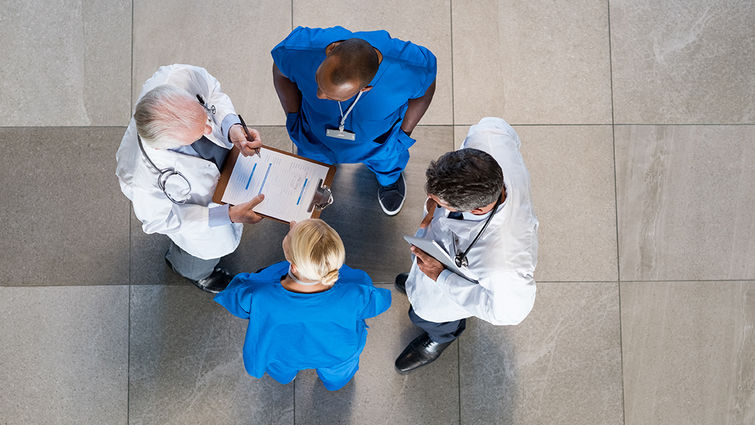 Nurses can play an important role in improving the general health of a specific population, but changes in nursing education and practice, including population-focused competencies, leadership and data management, must occur, according to a study commissioned by the Robert Wood Johnson Foundation (RWJF) and performed at Loma Linda University Health.
Judith Lloyd Storfjell, PhD, RN, FAAN, president of Lloyd Consultants, LLC, in Michigan, served as the study's lead researcher. Because RWJF required the $220,000 in project funding be routed through a university, Storfjell approached Loma Linda University Health. Storfjell is an adjunct professor in the School of Nursing, and a former Senior VP for the Medical Center. Betty Winslow, PhD, School of Nursing professor and Jasmine Saunders, MA, a research assistant from the School of Public Health, supported the project.
The nine-month project included a review of more than 600 published articles and professional newsletters, attendance at professional meetings, and interviews with more than 30 experts in nursing education and other population health-focused professionals. The project concluded at an RWJF-sponsored two-day conference attended by nearly 40 experts who reacted to the paper and recommended paths for implementation.
According to Storfjell, Nurses are the healthcare team members closest to patients, making them the best situated to recognize needs.  They are educated to assess their patients' social and physical environments as well as their physical status.  Frontline nurses can assure care continuity by participating in or leading inter-professional groups that plan post-discharge care plans," Storfjell said. "Nursing care management is recognized as the most cost effective method of reducing health care utilization and costs."  Nurses also can be leaders in working with community partners to improve the overall health of a group or community.
"There are huge ramifications for acute care nursing moving forward," Storfjell said. "Nurses will need to increase their roles in coordinating care prior to and post discharge to prevent re-hospitalizations. Other nurses will be needed to manage chronic care patients or monitor data and trends. These needs will require new processes to reduce the high amount of nursing time wasted in tasks other than direct patient care."
This landmark project detailed recommendations for nursing education, practice, leadership, research and policy.  RWJF is now in the process of promoting and facilitating the implementation of these recommendations nationally.
Partherships such as this one with the Robert Woods Johnson Foundation do much to advance research excellence – an important part of Vision 2020 – The Campaign for a Whole Tomorrow – at Loma Linda University Health. 
To read more information about the RWJF study, the white paper and the Executive Summary can be downloaded from the Foundation website.