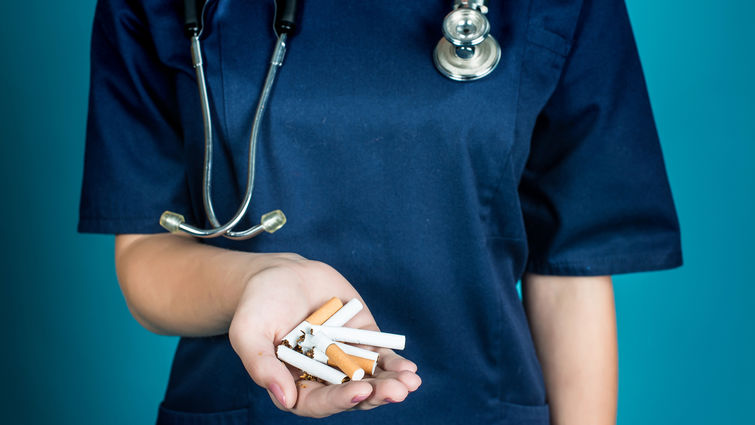 A study conducted by researchers in California and the Czech Republic has identified four key hospital workplace factors that influence the smoking behaviors of nurses in Central and Eastern Europe. Access to work breaks was identified as the most prominent of the four influencing factors impacting nurses' experiences with quitting smoking and staying tobacco-free.
Published in February by Cancer Nursing journal, the study explored nurses' perceptions of hospital workplace factors that influence their smoking and quitting behaviors. In addition to differences in work breaks by smoking status, other recognized themes include lack of support for quitting, negative effects of nurses' smoking on patient interactions, and impact of workplace policies on continuing to smoke or deciding to quit.
Anne Berit Petersen, PhD, MS, MPH, assistant professor for Loma Linda University School of Nursing and the study's lead author, said changes in healthcare systems and policies are needed to support nurses' quit efforts and wellbeing. "We need to provide additional education to ensure that nurses, administrators and policymakers understand key issues related to smoking and interactions with patients," she said. "Supporting nurses' efforts to quit is critical to strengthening the profession's impact on prevention of tobacco-induced diseases."
Titled "'Everyone Needs a Breath of Fresh Air': Workplace Impact on Nurses' Smoking Behaviors," the study was a joint project of several researchers from the University of California, San Francisco — Petersen's alma mater — the University of California, Los Angeles, and the Eastern Europe Nurses' Centre of Excellence for Tobacco Control.
"There was a consensus among current and former smokers that nurses' smoking behaviors are linked to the routines and culture of the workplace, with the most prominent matter being the relationship between work breaks and smoking," Petersen said.
The study was conducted across five Central and Eastern European countries and included nurses who self-reported as a current smoker or former smoker. Between March 2015, and February 2016, 82 nurses participated in nine focus groups, recruited from hospital-based work settings from across the five Central and Eastern European countries.
Work or rest breaks have been associated with many benefits, including improved job satisfaction, less burnout and stress and even decreased patient death rates, Petersen said. "The lack of guaranteed equitable work breaks was perceived as a significant factor impacting nurses' smoking behaviors," Petersen said.
The study identified smoking as the only perceived sanctioned reason for taking a break. Nonsmokers were perceived to receive fewer breaks than nurses who smoked — which incidentally, has been substantiated in quantitative studies conducted in the United States, Petersen said.
"In addition to promoting comprehensive smoke-free programs, one of the most supportive actions employers can take to assist nurses to quit is to ensure that all nurses have equitable access to work breaks."