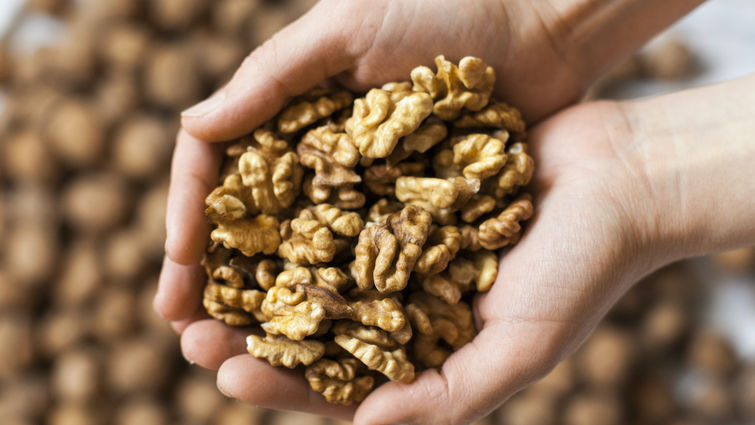 New findings on additional benefits of walnut consumption highlight its ability to help reduce the risk of heart disease in older adults.
Researchers from Loma Linda University School of Public Health and the Lipid Clinic at the University of Barcelona in Spain released findings in a journal article last month showing walnut consumption in older adults reduced 6 out of 10 blood inflammatory markers by up to 11.5%.
The study, "Effects of 2-Year Walnut-Supplemented Diet on Inflammatory Biomarkers," appeared in the Journal of the American College of Cardiology and is part of the Walnuts and Healthy Aging (WAHA) study, which ran from 2012 to 2016 and was the longest and largest study about the health benefits of walnuts.
Sujatha Rajaram, PhD, professor of nutrition at the School of Public Health and a co-investigator of the study, says newfound confirmation of walnuts' ability to lessen chronic inflammation adds to a growing knowledge base linking nut consumption to lower risk of cardiovascular diseases. Previous research by this group and others has shown how walnuts' cholesterol lowering effects and contribution to vascular health can bolster the cardiovascular system.
"Eating walnuts can be beneficial from both a disease management and disease prevention point of view," Rajaram says. "Those who have been diagnosed with cardiovascular disease can add walnuts to their diet to benefit their body in addition to medication or treatment they receive, and others can start incorporating walnuts into their diets to reap preventive benefits."
With cardiovascular disease reported to be the leading cause of death both globally and in the United States by the World Health Organization and Centers for Disease Control and Prevention, findings about plant foods capable of cutting the risk of heart disease are all the more significant to fold into daily life for health's sake, Rajaram says.
Incorporating walnuts to an existing diet doesn't warrant a drastic lifestyle change — simply add the nuts to any routine by eating them plain, mixing them with breakfast cereals, sprinkling them atop a salad or blending them in a smoothie. While the research in the article focused on daily walnut consumption in older people, eating a fist-sized portion of walnuts 3-5 times a week could be beneficial for everyone, Rajaram says.
Rajaram says she anticipates future studies by WAHA researchers to extend evidence about walnuts' health benefits beyond heart disease and in examining impacts on demographics beyond older healthy adults.
In the meantime, more scientific support for the inclusion of walnuts as part of a heart-healthy diet is refreshing, Rajaram says.
"In a world where consumers are often told about which foods not to eat, it is nice to hear about what is actually good to eat for a change," she says.
---
To learn more about research at LLU, visit researchaffairs.llu.edu or call 909-558-8544.