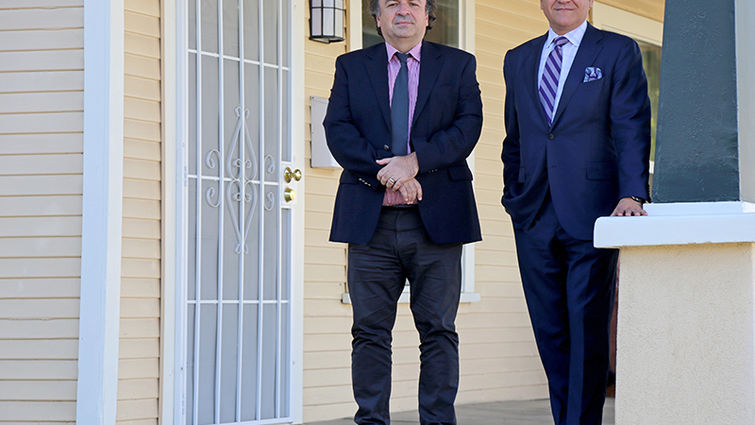 An innovative center designed to take research breakthroughs from the laboratories of Loma Linda University Health to the patient bedside is opening soon on campus.
Named n3EIGHT, LLC, (pronounced "incubate"), the new center will bring academic and clinical researchers together with business and corporate leaders to launch new products based on their discoveries. According to Michael Samardzija, PhD, JD, associate vice president for research, the center will benefit mankind by finding new cures and management strategies for a wide variety of diseases and medical disorders.
The name was chosen to highlight Loma Linda University Health's emphasis on research and innovation.
"We want people to know that Loma Linda is a great incubator of new ideas designed to enhance health and wellness," Samardzija says. "When it opens this December, n3EIGHT, LLC, will play a crucial role in helping Loma Linda research scientists find commercial and developmental resources to bring new treatments and products to light."
He adds that n3EIGHT, LLC, will serve the global outreach of Loma Linda University Health by looking for solutions to health or medical problems in developing countries and underserved regions of the world.
"Currently, when LLU students go on mission trips to offer medical/dental services, the individuals that get the most out of the trip are our students," Samardzija reports. "We are going to be training them to be on the lookout for unmet needs, and to catalogue them along with resources available in the areas they visit. Upon their return, we will select one or two of these unmet needs and try to develop a solution that would be achievable given the available resources."
Zoran Zivanovic, a business leader with more than 30 years of experience in helping startup companies succeed, has been chosen to serve as director of n3EIGHT, LLC. Like many innovative projects, the center will start small.
"In the beginning, there will be multiple companies working there at any time," Zivanovic notes. "Companies chosen to participate will undergo a 10-week training program with one focus: to bring intellectual property developed in the laboratory to the market and ultimately to the patient bedside. It will serve as a launchpad for creative, problem-solving companies."
Eight firms have signed agreements to be the freshman class, so to speak, of the new center. They are:
Step Lite—illuminating pedals for use in surgery
iEye—diagnosing age-related macular degeneration
iSpin—small molecules targeting the Human Papillomavirus
StemRex—cell therapy programmed to become brain, bone, heart, liver, pancreas, kidney, or other cells
Vis—self-locking pedicle screws for back surgery
Tack—a novel device that will provide for better crowns and dental implants
Elf Zone—creating xenograft cancer models to assist in the fight against health disparities
Clear—creating a novel tool to assist healthcare practitioners in providing whole person care.
Ironically, Samardzija does not expect all of the center's efforts to succeed. "If we're going to fail in our bid to bring a particular idea to fruition, we want to fail quickly," he says, echoing a regional saying from the rural South which alleges, "There's many a slip between the cup and the lip."
When renovation is complete, n3EIGHT, LLC, will open inside the yellow duplex at 11219 Anderson Street in Loma Linda.