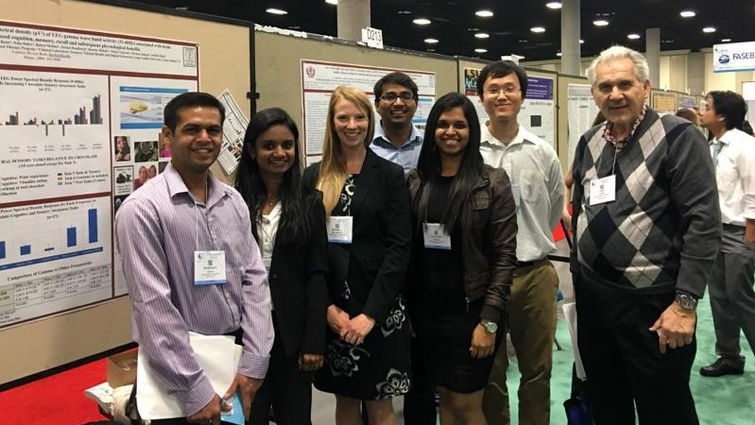 Three abstracts that were submitted for peer-review and presentation by Lee Berk, DrPH, MPH, on research for which he serves as principal investigator (PI), and a fourth abstract submitted by Gurinder Bains, PhD, principal investigator, on results of a pilot study conducted, demonstrating benefits of positive-affect laughter on reducing detrimental inflammatory blood biomarker levels, were presented at the 2016 Experimental Biology Conference, held in San Diego, April 2 — 7.
Berk's first two accepted abstracts accepted abstracts outlined the research results of human subject experiments and the consumption of dark "healthy" chocolate (70 percent cacao) to enhanced sensory response effects on brain frequency changes.
Both dark chocolate experiments offered evidence of positive association between the consumption of 70 percent cacao and improvement in brain function and efficacy.
The third abstract of Berk's research, focused on the positive happiness benefits of humor associated mirthful laughter on the brain.
The fourth abstract on results of a pilot study, demonstrating the benefits of positive- affect laughter on reducing detrimental inflammatory blood biomarker levels, was presented by Bains, who worked with Berk on his laughter studies.
"Our research findings offer potential clinical and rehabilitative benefits that can be applied to wellness programs for the elderly," Bains says. "The cognitive components—learning ability and delayed recall—become more challenging as we age and are essential to older adults for an improved quality of life: mind, body, and spirit."
He adds, "Although older adults have age-related memory deficits, complimentary, enjoyable, and beneficial humor therapies need to be implemented for these individuals."
Study co-author Berk, long-time psychoneuroimmunology researcher adds, "It's simple, the less stress you have the better your memory."
He continues, "Humor reduces detrimental stress hormones like cortisol that decrease memory hippocampal neurons, lowers your blood pressure, and increases blood flow and your mood state. The act of laughter—or simply enjoying some humor—increases the release of endorphins and dopamine in the brain, which provides a sense of pleasure and reward."
He adds, "These positive and beneficial neurochemical changes, in turn, make the immune system function better. There are even changes in brain wave activity towards what's called the 'gamma wave band frequency', which also amp up memory and recall."
Berk concludes, "So, indeed, laughter is turning out to be not only a good medicine, but also a memory enhancer adding to our quality of life."
Craig Jackson, MD, PhD, dean of Loma Linda University School of Allied Health Professions, says, "We have reached a new milestone in the growth of the Loma Linda University School of Allied Health Professions research culture where all three research studies Dr. Lee Berk submitted from our current research activities were accepted for presentation at the Federation of American Societies for Experimental Biology 2016 annual meetings."
Jackson continues, "In addition, a fourth research study submitted by Dr. Bains was also accepted for presentation. This is an unprecedented achievement for the school!!" 
Dean Jackson also provided sponsorships for several of the school's doctoral students who have been involved in this research. Many were able to attend and jointly present the school's research findings during the conference poster presentation sessions.
The Federation of American Societies for Experimental Biology annual meetings are multidisciplinary, scientific meetings that feature lectures, pre-meeting workshops, oral and poster presentation sessions, and attendance of numerous large scientific companies as exhibitors showing their latest in new equipment, instruments and supplies for medical and scientific research, as well as publication vendors of medical and scientific journals and educational books and publications used in teaching and research labs for basic and human experimental studies.
The Experimental Biology Conference is an annual meeting comprising more than 14,000 scientists and exhibitors and representing six sponsoring societies (the American Association of Anatomists, the American Society for Biochemistry and Molecular Biology, the American Society for Nutrition, the American Physiological Society, the American Society for Pharmacology and Experimental Therapeutics and, the American Society for Investigative Pathology), and multiple guest societies from all parts of the world. 
The typical number health care professional and scientific researchers from all over the world range between 20,000 and 25,000 attendees.