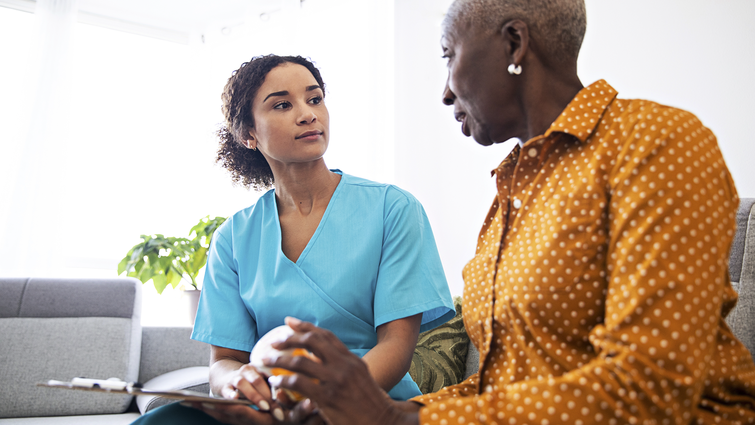 A Loma Linda University School of Pharmacy instructor is calling for the national "Test to Treat" initiative to include pharmacists as designated providers who can both diagnose and treat COVID-19 patients in one location under Emergency Use Authorization — a move, she says, would help mitigate minority barriers to care.
Assistant Professor Jacinda Abdul-Mutakabbir, PharmD, MPH, published her appeal today as a commentary in The Lancet Regional Health – Americas, co-authored by other supportive pharmacists and physicians across the nation who first saw her comments in a social media post.
She says the exclusion of pharmacists from the "Test to Treat" program, which was launched in March, creates unnecessary barriers to care, especially across minoritized groups. Many minorities lack digital access to locate a clinic or make an appointment, and many live far from healthcare providers and lack transportation, even to Federally Qualified Healthcare Centers (FQHC).
Allowing pharmacists to partner with FQHCs would make COVID-19 treatments more accessible to those disproportionality affected by severe COVID-19 illness and reduce recognized inequities that have been perpetuated during the pandemic, Abdul-Mutakabbir says.
"Ideally, the 60,000 pharmacies in the U.S. could work in tandem with the FQHCs to lessen the recognized inequities," Abdul-Mutakabbir says. Unfortunately, the plan — along with the current Food and Drug Administration (FDA) Emergency Use Authorizations (EUAs) specific to the oral antivirals — omits pharmacists from the designated list of prescribers able to test and provide patients with these medicines."
In the United States, Black, Hispanic and Native Americans are twice as likely to be hospitalized or die from COVID-19 when compared to white Americans, according to the Centers for Disease Control and Prevention. Racially and ethnically minoritized individuals are more likely to live in a primary care provider desert — where there is, on average, one full-time provider for over 10,000 individuals, according to GoodRx.
"One-Stop Test to Treat" sites are currently available at hundreds of locations nationwide, including pharmacy-based clinics, FQHCs, and long-term care facilities, according to Assistant Secretary for Preparedness and Response. And patients can continue to be tested and treated by their own physicians, who can appropriately prescribe oral antivirals at locations where the medicines are distributed. "If pharmacists were approved as authorized prescribers, it would be critical to remain collaborative between pharmacists, physicians, and other advanced practice providers," Abdul-Mutakabbir says.
She says the development of an interdisciplinary, rapid bidirectional communication mechanism regarding the prescribing of the COVID-19 oral antivirals would be essential. The system may also aid in expediting the identification and treatment of a COVID-19 case. "This would mitigate virus spread within minoritized communities and prevent complications that require hospitalization," she says.
Although COVID-19 case rates have subsided in some communities, the negative effects of the pandemic remain among minoritized groups. "The lack of prioritization of race and ethnicity within treatment algorithms for COVID-19 directed therapeutics will inevitably translate to a widening of health equity gaps," Abdul-Mutakabbir says. "If correctly curated, federal programs like 'Test to Treat' can expand access to new COVID-19 therapies; however, for that to succeed, it must acknowledge the barriers to effective and optimal patient care within minoritized communities."