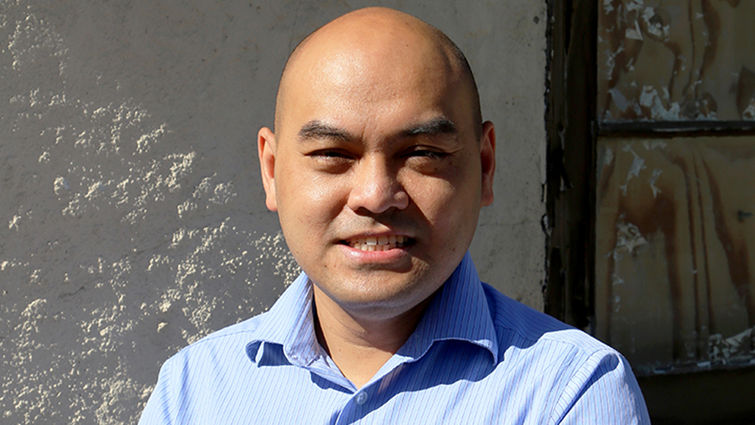 Huynh Cao, MD, a third-year hematology/oncology fellow at Loma Linda University Health Education Consortium, was recently named recipient of the prestigious 2017 Amgen Young Investigator Award from the Conquer Cancer Foundation of the American Society of Clinical Oncology.
The $50,000 stipend that accompanies the award will help finance Cao's study of a novel mechanism for killing leukemia cells by delivering high doses of Vitamin D to the bone marrow of patients with the fast-growing cancer.
Cao says that in high oral doses, Vitamin D can produce serious, unwanted side effects. The goal of his intervention is to deliver a gene specifically to the bone marrow where it will activate inactive Vitamin D to target leukemia cells without producing systemic negative side effects.
"If you can deliver high-dose Vitamin D to the bone marrow alone, you can convert immature leukemia cells to mature cells and they will eventually die off," Cao said.
Cao joins an elite group of 66 emerging scientists from Cornell, Harvard, Johns Hopkins, Stanford, Yale and other American universities in winning the 2017 award.
David Baylink, MD, head of regenerative medicine division and distinguished professor at Loma Linda University School of Medicine, was the translational science mentor on the study. He said Cao's award is quite unique and represents an accomplishment that should be an inspiration to other fellows throughout the hospital.
"He deserves a lot of credit because of his initiative," Baylink said of Cao. "He doesn't stop trying to discover therapies to help cancer patients. He's competitive, gracious and focused; a good role model. We need more fellows to follow in his footsteps."
In addition to Baylink, Cao cited two other faculty mentors who encouraged him to proceed with the study: C.S. Chen, MD, PhD, professor of medical oncology; and Kimberly Payne, PhD, director of translational research.
Chen said Cao dedicated more than two years to brainstorms, setbacks, revisions, and hands-on laboratory work to bring the study to fruition. Chen said Baylink's mentorship was of pivotal importance, and underscored the support Cao received from Mark Reeves, MD, director of the Cancer Center, and his staff.
"Without collaborating across campus, we would not be effective as physician/scientists," Chen said.
Cao emigrated to the United States from Vietnam in 1995. He completed his MD degree at the David Geffen School of Medicine at UCLA, and received his residency training at St. Mary's Hospital and Medical Center in San Francisco before coming to Loma Linda University for the fellowship program in 2014. He will complete it this summer and join the faculty in the Division of Hematology and Oncology. Looking ahead, Cao is planning to write proposals for a number of related studies targeting leukemia.
When he's not in the lab, Cao enjoys playing badminton and tennis, working out, reading, and hanging out with friends and his wife.
Payne, the director of translational research, said she was immediately impressed by Cao's energy, enthusiasm and passion for research from the moment she first met him at a translational research training class for graduate and medical students.
"Dr. Cao was presenting the very same ideas that would earn the American Society for Clinical Oncology Young Investigator Award," she recalled. "It has been a pleasure working with him as he has turned this initial seed of an idea into a full-fledged, externally supported research project. This is inspiring for other young investigators at Loma Linda University and I am certain there will be more exciting things to come."