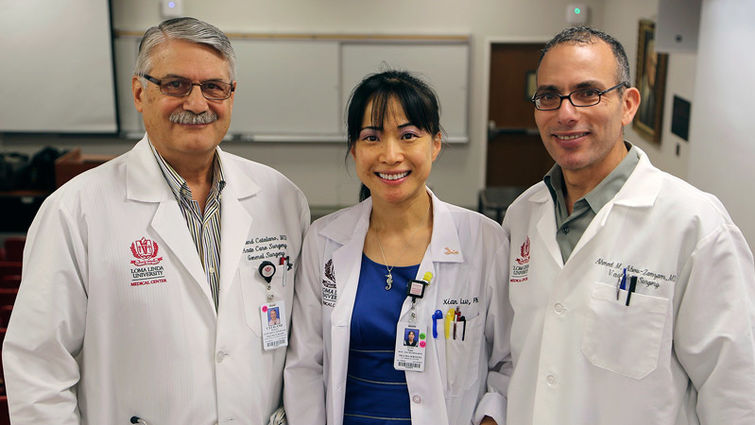 The National Trauma Institute (NTI) recently received a $4.6 million Department of Defense (DOD) extramural medical research grant to develop a National Trauma Research Repository (NTRR) and fund three promising studies with implications for both civilian and military trauma care facilities.
According to Xian Luo, PhD, a researcher in the trauma services department at LLUMC, the grant will fund multi-center studies target at specific knowledge gaps, including one study that will validate different therapies for vascular trauma. As the only Level 1 Trauma Center in a four-county area, Loma Linda University Medical Center (LLUMC) will participate in one of the studies.
"Dr. Richard Catalano will serve as principal investigator for the portion of the study that will be conducted at Loma Linda," Luo says.
Titled "Prospective Observational Vascular Injury Trial," or PROOVIT, the study will evaluate non-compressible vascular injury, a significant contributor to mortality in both civilian and military trauma populations.
"The PROOVIT study aims to assess and analyze current vascular trauma injury patterns and presentation," Luo observes, "as well as diagnosis, management—both acute and definitive—surveillance, and outcomes following vascular trauma. It will also evaluate treatment options and outcomes, and determine future therapeutic treatment modalities."
Ahmed Abou-Zamzam, MD, chief of vascular surgery in the department of cardiovascular and thoracic surgery at Loma Linda University School of Medicine, will serve as Catalano's co-investigator for the study. Luo will facilitate LLUMC's involvement in the multi-center trial. "Participating in this study will help Loma Linda contribute, on a wider scale, to the care of the trauma patient," Abou-Zamzam observes.
In addition to LLUMC, Luo says more than 10 trauma centers are participating in the study including:
University of Texas Health Sciences Center, Houston
University of Tennessee Health Sciences Center, Memphis
R. Adams Cowley Shock Trauma Center, University of Maryland, Baltimore
University of Florida, Jacksonville
Eastern Carolina Medical Center, Benson, North Carolina
University of Southern California, Los Angeles
Massachusetts General Hospital, Boston
Ben Taub General Hospital, Baylor College of Medicine, Houston
Peace Health, Southwest Washington Medical Center, Vancouver
Lutheran Medical Center, Brooklyn
San Antonio Military Medical Center, San Antonio
Luo notes that as the number of participating trauma centers nationwide increases, a subsequent expansion and extension of the two-year PROOVIT grant is highly likely.
Catalano concludes with an optimistic appraisal of what the grant means.
"The grant represents the first major funding for our Trauma Center research program," he notes, "and hopefully the first of many."