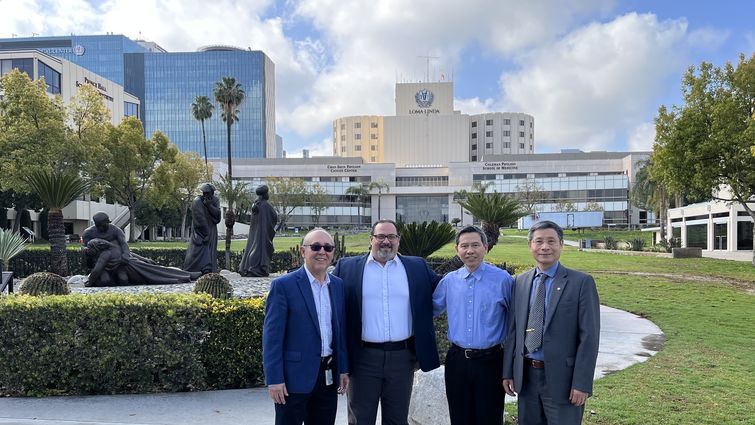 Loma Linda University researchers received over $5.8 million in grants from the National Institutes of Health (NIH). The grants support two separate research teams' projects: one team will study the effects of maternal electronic cigarette vaping on babies' abnormal brain development from a molecular level, and the other team will investigate why immune responses to prostate cancer vary by race and explore the potential for a new targeted treatment.
The NIH's National Institute on Drug Abuse (NIDA) awarded a five-year U01 grant of $5.4 million to Charles Wang, MD, PhD, MPH, director and professor of the Center for Genomics at Loma Linda University School of Medicine, and Daliao Xiao, DVM, PhD, a professor at the Lawrence D. Longo, MD Center for Perinatal Biology at LLU School of Medicine, to commence the project, "Genomic and epigenomic mechanisms of maternal e-cigarette-induced abnormal brain development." The renewable grant falls under the NIDA Animal Genomics Program & Consortium.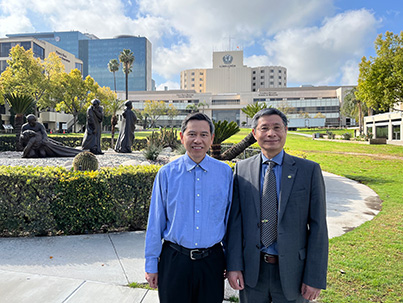 Wang says the project's goal is to use cutting-edge genomic technologies, including single-cell sequencing and spatial genomics tools, to understand the mechanisms underlying maternal vaping-induced abnormal brain development in rats. E-cigarettes are electronic nicotine delivery systems that have gained traction in the global market in the last decade and become more popular among pregnant women and adolescents.
Ultimately, Wang says investigating the genomic and epigenomic changes caused by maternal e-cigarette vaping will provide valuable new insights into the effects of e-cigarettes on early central nervous system development.
"We hope our research findings will help explore promising molecular and cellular therapeutic targets for treating nicotine-induced brain damage," he says.
Wang and Xiao collaborated on a recent study that used single-cell sequencing technologies based on an animal model, discovering that mothers' e-cigarette use during pregnancy disrupted the ratio of different brain neurons in their unborn babies. Wang says the effects of abnormal brain development in babies may persist after birth because maternal smoking reprogrammed the fetal epigenome — where brain cells store codes of chemical modifications to DNA.
We are thrilled with how this funding lines up so well with our expertise.Dr. Charles Wang
LLU's Center for Genomics, which launched in 2014 with Wang as its founding director, has published several papers in high-impact journals leading up to the grant, says Wang, including: six papers in Nature Biotechnology, six papers in Genome Biology, and two papers in Nature Communications.
"We are thrilled with how this funding lines up so well with our expertise," Wang says. "Receiving this grant marks a major milestone and speaks to the caliber of research we conduct through the cutting-edge technologies at our Center for Genomics and Center for Perinatal Biology."
Another branch of the NIH, the National Cancer Institute (NCI), awarded $437,000 in funds to three principal investigators: Carlos A. Casiano, PhD, associate director of LLU Center for Health Disparities and Molecular Medicine (CHDMM), and Frankis Almaguel, PhD, MD, director of LLU Molecular Imaging and Therapeutics Research Program, and Bhaskar Das, a professor at Long Island University.
Their study, "The role and theranostic potential of enolase in prostate cancer health disparities," will investigate why the immune systems of men of African descent and men of European descent react differently against the glycolytic enzyme enolase, a protein found on the surface of prostate cancer cells. In parallel, Casiano says the team will explore the role of enolase in theranostics, a growing practice that pairs imaging with therapy to molecularly target and kill cancer cells while sparing healthy tissue.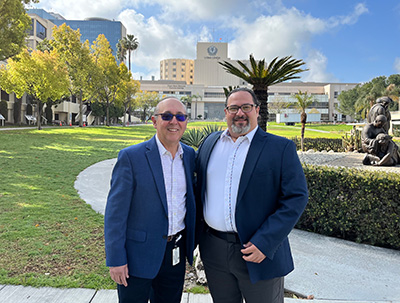 "This is the first grant the NCI has awarded to LLU to explore the application of theranostics," Casiano says. "We believe that leveraging the precision of theranostics care may increase health equity and accelerate the delivery of cutting-edge therapeutics to most at-risk groups."
African American men are more likely to develop prostate cancer than other men, get prostate cancer at a younger age, and tend to have more advanced disease when found, Casiano says. They are also twice as likely to die from prostate cancer than other men.
Casiano and his team of researchers recently discovered one of the ways immunological responses account for this racial health disparity. Their study found that antibodies to enolase produced by men of European descent protectively blocked the migration of chemotherapy-resistant prostate cancer cells; conversely, the enolase antibodies of men of African descent did not block cancer cell migration. The latter immunological response may allow chemotherapy-resistant prostate cancer cells to become highly aggressive and metastatic.
We hope the results of this exploratory NCI-funded study will serve as a basis for further funding in this important and burgeoning line of research.Dr. Carlos Casiano
Casiano says he and the team will study the antibodies from patients' blood samples to uncover the biological basis for these race-related differences in immunoreactivity to enolase. At the same time, the researchers will work on designing molecules that could inhibit enolase on prostate cancer cells. Additionally, Casiano says they will use cancer cell lines and patient-derived tumor xenografts and organoids to evaluate whether the molecules can eliminate tumor cells expressing the enolase protein on their surface.
"Establishing enolase as a potential theranostic target for advanced prostate cancer could lead to innovative clinical strategies that reduce overall prostate cancer mortality and its racial disparities," Casiano says.
The project integrates the principal investigators' unique areas of expertise: Casiano's research on prostate cancer and health disparities, Das's work in boron-based medicinal chemistry and the design of small molecules, and Almaguel's experience in molecular imaging and prostate cancer theranostics. Enolase is the first of many therapeutic molecules Almaguel says he plans to translate for theranostics applications that can be readily transitioned to clinical settings to improve patient outcomes.
"We hope the results of this exploratory NCI-funded study will serve as a basis for further funding in this important and burgeoning line of research," Casiano says.
Both grants take steps toward Loma Linda University Cancer Center's goal of becoming designated as an NCI Comprehensive Cancer Center.
---
To learn more about research at Loma Linda University Health, visit researchaffairs.llu.edu or call 909-558-8544.