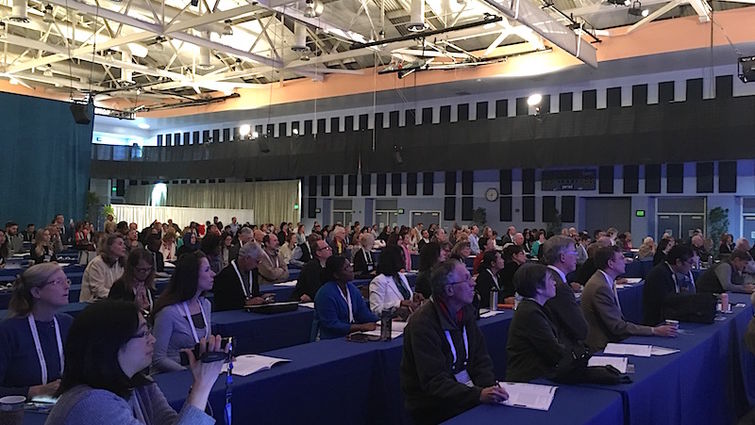 One of Loma Linda University Health's signature events, Healthy People in Healthy Communities (HPHC), kicked off the first full day of the annual alumni Homecoming celebration. However, this year's Homecoming is unlike those in years past — it is One Loma Linda Homecoming, encompassing all eight schools simultaneously.
"We are celebrating the legacy of Loma Linda University Health and the alumni who live this legacy every day," said President Richard H. Hart, MD, DrPH.
Homecoming's opening event celebrated the city of Loma Linda's recognition as a Blue Zone®, one of five geographic areas in the world where residents have greater longevity. The only Blue Zone in the United States, Loma Linda was declared one in Dan Buettner's November 2005 cover story for National Geographic.
Hundreds came out to experience the first International Symposium on Blue Zone Science & Health where experts from each of the five Blue Zones — Sardinia, Italy; Okinawa, Japan; the Nicoya Peninsula in Costa Rica; Ikaria, Greece; and Loma Linda — gave updates on the most recent research as it relates to longevity in their respective regions.
Their findings: wellness and longevity is affected by diet and nutrition, physical activity, and one's social and spiritual well being. In other words, a term Loma Linda University Health is quite familiar with: wholeness.
Michael Poulain, PhD, from Sardinia, the first validated longevity Blue Zone, emphasized the United States has opportunities to change the environment. "There is a lot of soda in the U.S.," he said. "But if we replaced all the soda fountains with water fountains, what a difference it could make."
HPHC is the premier conference on lifestyle medicine and the built environment. The conference underlines Loma Linda University Health's legacy of promoting health, longevity and wholeness while creating a platform for exploring the role of Blue Zone areas as a paradigm for population health.