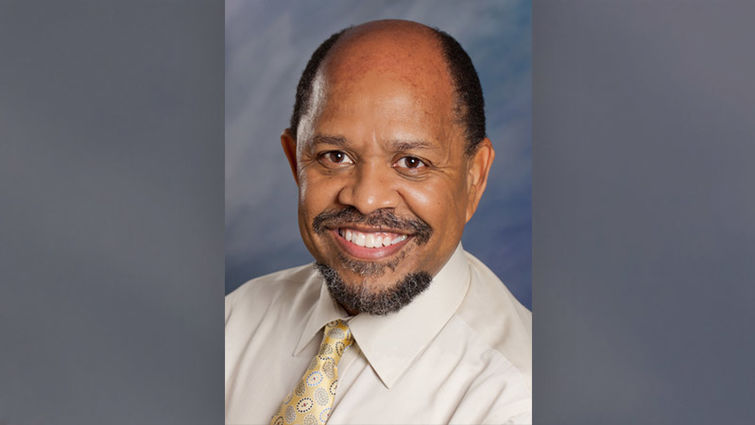 Hansel Fletcher, PhD, recently learned that he is the recipient of a $1.985 million grant from the National Institute of Dental and Craniofacial Research, an entity of the National Institutes of Health (NIH), to study Porphyromonas gingivalis, a species of bacteria implicated in periodontal and cardiovascular diseases.
As professor and vice chair of basic sciences in the Loma Linda University School of Medicine division of microbiology, Fletcher has been on the trail of the more than 700 species of microbes that inhabit the human mouth. Previous studies have led him to conclude that of that number, only a few bacteria are associated with periodontal disease.
In the project narrative—titled "Studies on the virulence regulation in Porphyromonas"—Fletcher outlines the purpose of his investigation.
"The post-transitional modification of several of the major surface proteins/ structures is important for the pathogenic potential of P. gingivalis," he writes. "The goal of this research is to characterize the novel protein that is important in virulence regulation in P. gingivalis. The success of this bacterium as an important cause of gum disease suggests that this protein is vital for its survival. Essential components of the regulatory system that this protein controls are prime targets for the development of novel therapeutics that will have a positive impact on human health."
Since virulence regulation refers to genetic factors that control the production of molecules that lead to pathologic diseases, what Fletcher hopes to do is find out how to stop the processes that trigger gum disease.
"It means we can develop an effective therapy to prevent gum disease caused by this bacteria," he explains. "We've been studying this protein for more than 10 years. "This represents my third NIH R01 grant on this topic." R01s are research project grants used to fund NIH-approved studies.
Fletcher began his research career at Virginia Commonwealth University in 1990, joining the LLUSM faculty after Barry Taylor, PhD, emeritus professor, recruited him in 1995.
When he's not in the lab at LLUSM, Fletcher can often be found at church. As an elder and media director for the Kansas Avenue Seventh-day Adventist Church in Riverside, he maintains a busy weekend schedule.
"I coordinate the execution of the church service," Fletcher says. And although he puts in several hours per week, he maintains it's nothing compared to the demands on his time when he served the church as head elder for two years.
"I was traveling on multiple professional trips that took me all over the world," he says. Fletcher holds adjunct professorships at universities in the United States, India, China, South Korea, and Jamaica. On December 28 of last year, the Indian Association of Applied Microbiologists conferred the 2015 Lifetime Achievement Award on him.
The Caribbean has been seeing a lot of Fletcher lately. In February, he flew to Northern Caribbean University in Mandeville, Jamaica, West Indies, to deliver the keynote address during that university's 2016 Research Week. His topic was "Vital Elements for Research Success."
This month, Fletcher was again in Jamaica, this time as keynote speaker for Research Day 2016, a collaborative venture between the Brown's Town Community College School of Nursing and the Jamaica Diaspora Education Task Force. It was held March 22 at Holiday Haven in St. Ann. As a native Jamaican who has found high-level success as a prominent researcher in the field of oral microbiology, Fletcher is frequently called on to speak at similar venues throughout the West Indies and around the world.
"My life is very busy," he acknowledges. "One of the things I am very committed to is Adventist young people. They need the very best education and the best role models. That's what drives me to do this. That's why I work so hard to be competitive."
Despite numerous offers from other prestigious universities over the years, Fletcher maintains rock-solid loyalty to Loma Linda.
"I said no to the University of Pennsylvania, The Ohio State University, and the University of Florida," he discloses. "When the President of the University of Pennsylvania told me they always get whoever they want, it was clear to me she didn't know the depth of my commitment to Loma Linda University. The Lord has blessed me here and I need to share that with others. One of my top goals is that when young people come to Loma Linda University, they leave here with a great experience."
Apparently one of Fletcher's other commitments is to a very clean office and desk. On the day the interview for this article was conducted, the reporter observed that he has seldom seen such a neat office, and never in an academic research setting.
Fletcher lowered his gaze in shocked disbelief.
"Really?" he asked. "I'm disgusted with it!"
---
Disclaimer: Research reported in this publication was supported by the National Institute of Dental and Craniofacial Research of the National Institutes of Health under Award Number R01DE025852. The content is solely the responsibility of the author and does not necessarily represent the official views of the National Institutes of Health.