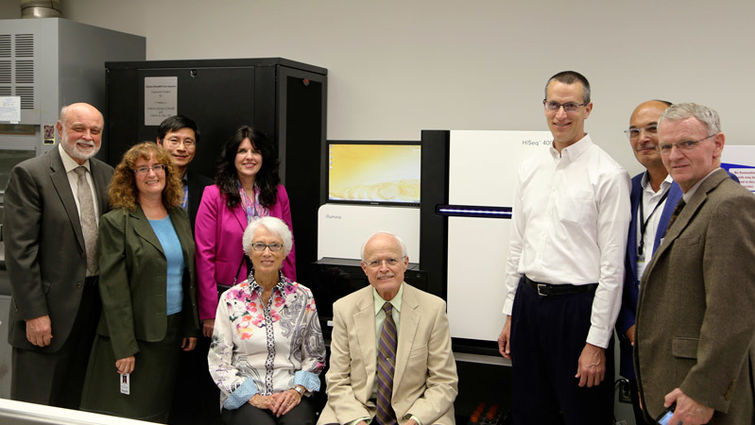 Officials from the Ardmore Institute of Health, an Oklahoma corporation dedicated to promoting health and vitality through healthy lifestyles, attended a special dedication ceremony for the Illumina Seq 4000 DNA sequencer on Wednesday, March 9, to learn more about the future of genomics medicine at Loma Linda University School of Medicine. President and CEO Kevin Brown, MS, MBA, Board Chair Ron Stout, MD, MPH, Board Member Franklin House, MD, and Bonnie House, Franklin's wife, traveled to the Inland Empire from Oklahoma for the occasion. Stout and Franklin House are both LLUSM alumni.
The new acquisition doubles the number of DNA sequencers—considered trailblazing tools for unlocking the secrets of health and disease at the molecular level—at Loma Linda University (LLU) Center for Genomics, enabling researchers to access the futuristic world of precision medicine.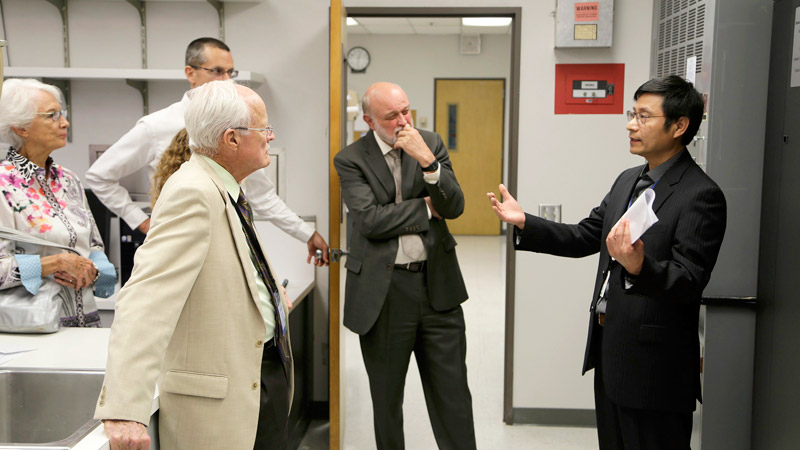 The first, an Illumina NextSeq 550 funded by a $280,000 NIH grant, can sequence an entire human genome—the complete chromosomal set containing all inheritable traits of an organism—in just 1.5 days. Charles Wang, MD, PhD, MPH, director of the Center for Genomics at Loma Linda University School of Medicine, says earlier models took 11 or 12 days. "It's great for small projects and for testing research theories," he notes.
The second, an Illumina HiSeq 4000, is considerably more powerful. Wang says it allows researchers to carry out very large projects, such as those using data and specimens from the Adventist Health Studies, to determine the effects of lifestyle on epigenomic reprogramming and longevity. This newer, more advanced model can sequence 12 whole human genomes in less than four days. Without it, he says, LLU scientists would not be able to conduct sophisticated studies essential to unlocking the potential of precision medicine. Purchase of the $1.1 million sequencer was made possible by the generosity of the Ardmore Institute of Health and by Charles A. Sims, MD. Unfortunately, Sims was unable to attend the dedication.
According to Penelope Duerksen-Hughes, PhD, associate dean for basic sciences at Loma Linda University School of Medicine, each human cell contains all 23 sets of chromosomes. "Each chromosome is a very long string of sequentially arranged DNA strands containing all the basic information needed to run your life."
Essentially a copy of an individual's DNA, RNA is a message or transcript of a particular DNA section designed to create a specific protein.
"These RNA messages are used to construct the precise proteins that carry out the individual functions of your body," she reports, noting that cells differ in the specific genes they activate so that liver cells create liver-specific proteins, heart cells produce heart-specific proteins, and so forth. "Importantly, the act of turning a particular gene on or off can influence how an individual responds to internal and external stressors and whether or not a person gets a disease for which they are genetically predisposed."
In one recent study, Lubo Zhang, PhD, director of the Center for Perinatal Biology at LLU School of Medicine, used DNA screening to evaluate outcomes in baby mice whose mothers were subjected to hypoxia. In another, Duerksen-Hughes and Wang developed a novel, DNA-sequencing-based method to discover why the human papilloma virus sometimes integrates into the host genome. If it succeeds, physicians may be able to decrease the frequency of genital cancer caused by this common sexually transmitted disease.
The Adventist Health Studies comprise a rare treasury for LLU researchers. Data from the decades-long investigation into a variety of health and lifestyle factors will enable scientists to identify specific genetic, epigenetic, and transcription mechanisms that link certain lifestyle practices to increased health and longevity.
"AHS-2," the second phase of the studies, "has tied inputs and outputs together, but DNA/RNA sequencing will allow us to study the mechanisms and how they work; to learn which genes are being turned on or off and to what degree. There are several interesting ways with which you can fish out the specifics of gene expression and this puts them at our fingertips. This is where it gets really exciting!"
Wang agrees. "Many exciting projects are planned using the gene sequencers. I am very happy with my decision to join the LLU family in 2013, and thrilled at what has been achieved so far. I hope the studies we have planned involving the new technologies will bring LLU into even higher visibility in the world of science."