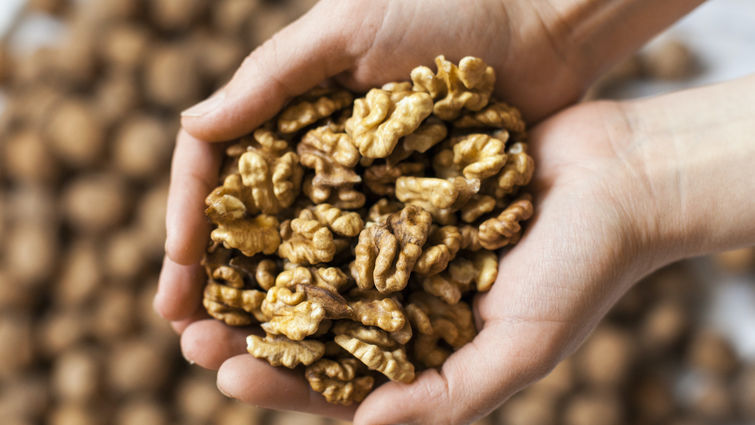 Eating a daily handful of walnuts can lower LDL cholesterol and total cholesterol, which is associated with a lower risk of cardiovascular disease (CVD), according to a recent study.
Researchers from Loma Linda University and the Lipid Clinic at the University of Barcelona in Spain published the findings last month in Circulation, an American Heart Association Journal, "Effects of Walnut Consumption for 2 Years on Lipoprotein Subclasses Among Healthy Elders." The study looked at lipid changes in nearly 700 healthy seniors in Barcelona, Spain and Loma Linda, California over the course of two years.
Sujatha Rajaram, PhD, professor of nutrition at Loma Linda University School of Public Health and lead author of the paper, said walnuts are the only tree nut that is an excellent source of alpha-linolenic acid, the plant-based omega-3 essential fatty acid.
"Walnuts have a unique profile compared to other nuts," Rajaram said. "The omega-3 fat, fiber and a lot of vital nutrients make up the good stuff that works together to create a healthy package. Regardless of one's diet, if you add walnuts, you will see some benefits — it's going to be heart-friendly."
Part of the larger Walnuts and Healthy Aging study, led by principal investigator Joan Sabaté, MD, DrPH, this recent study is unique as it looks at the role of walnuts in lowering heart disease risk among the elderly, ages 63 and up.
Rajaram said previous studies have shown walnuts reduce LDL cholesterol among younger and middle-aged adults, noting that, "Our study is unique in that it addresses the elderly population, but also it is the only study with an intervention for two years. None has been done longer than a year, with most ranging from three to six months, making this the longest intervention with nuts to date."
Also setting this study apart from other nut studies is that it is comparing two cohorts with very different background diets: Mediterranean versus typical western diet. The cohort in Spain followed mostly a Mediterranean Diet — typically high in vegetables, fruits, olive oil, and whole grains, and moderate in protein and animal fats — versus the cohort in Loma Linda, consuming a western-type diet that is known to be high in animal protein and saturated fat.
"We saw a modest cholesterol-lowering effect among our healthy seniors that had normal cholesterol to begin with, and based on other studies, the cholesterol-lowering effect would be greater among those with elevated LDL cholesterol," she said.
Rajaram added that in addition total and LDL cholesterol, walnuts also lowered other atherogenic LDL sub-fractions including LDL particles and remnant cholesterol, thus lowering the risk of CVD.
As for how much walnuts should be consumed to reap the benefits, Rajaram says about 1 to 1.5 ounces or a small handful a day would be beneficial.  
As for other nuts, prior studies show that most tree nuts and peanuts can aid in lowering cholesterol. This study further confirms that walnut consumption may be a simple and useful dietary Intervention to lower the atherogenic lipids and thus the heart disease risk.    
More information on the Walnuts and Healthy Aging Study is available online.