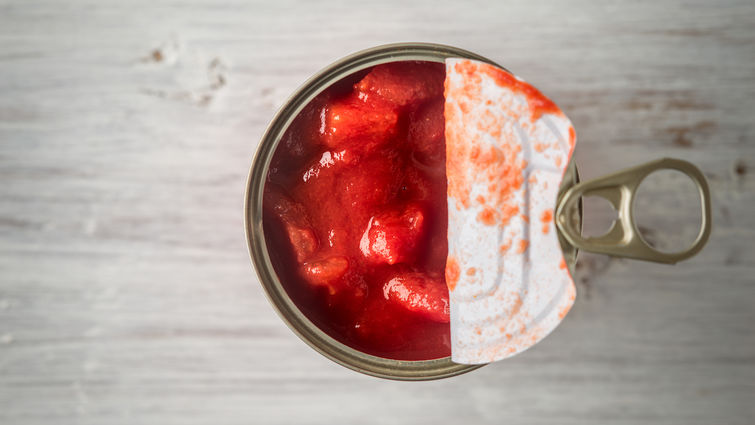 Cooked tomatoes may reduce the risk of prostate cancer according to a recent study conducted by researchers at Loma Linda University Health.
Tomato Consumption and Intake of Lycopene as Predictors of the Incidence of Prostate Cancer: The Adventist Health Study-2, published in Cancer Causes and Control on Feb. 25, found that men who consumed canned and cooked tomatoes 5 to 6 times per week had a 28% decreased risk of prostate cancer compared with men who never consumed this food. 
First author of the paper, Gary Fraser, MBChB, PhD, said the effect was still significant even after adjusting for a number of potential confounders, including ethnicity, education, obesity, exercise levels, alcohol consumption and others.
"Interestingly, the decreased risk was only seen in those men who ate canned and cooked tomatoes," Fraser said.
To examine how tomato consumption might impact the development of prostate cancer, the researchers looked for significant relationships between diet and prostate cancer in nearly 28,000 Adventist men in the U.S.
All Adventist Health Study participants agree to fill out self-administered food frequency questionnaires reporting their average number of times per week they ate of approximately 200 foods and beverages and serving sizes. After tracking the study's male participants — all of whom were cancer-free when they enrolled in the project — for nearly eight years, 1,226 of them had been diagnosed with prostate cancer, 355 of those as aggressive cases.
While all tomatoes and tomato-based products contain lycopene, other studies have shown that lycopene is absorbed at different rates depending on the product consumed. Lycopene bioavailability is higher when tomatoes have been heated or cooked, and especially if cooked with oil. Processing tomatoes in this way contributes to the separation of the lycopene from the carrier proteins.
This research suggests that it is particularly cooked tomatoes that may play a significant role in reducing a man's risk for developing prostate cancer. It may be their lycopene content that is the active principle.
Prostate cancer is the second most common cancer worldwide. In the United States alone, there were an estimated 165,000 new cases of prostate cancer and nearly 30,000 deaths just in 2018. Since 1989, a research team at Loma Linda University Health has examined a number of dietary practices to see which offer promise in preventing chronic diseases such as heart disease and cancer. Earlier research in the Adventist Health Study and several other projects internationally suggest high lycopene intake is associated with reduced risk of prostate cancer. Tomato and tomato-based products are of particular interest since they are major sources of the carotenoid lycopene.
Fraser, a professor of medicine and epidemiology at Loma Linda University, said researchers will continue to look at various tomato products and their potential to reduce prostate cancer risk. "Still," he added, "men concerned about developing prostate cancer could consider adding cooked and canned tomatoes to their diet on a regular basis."