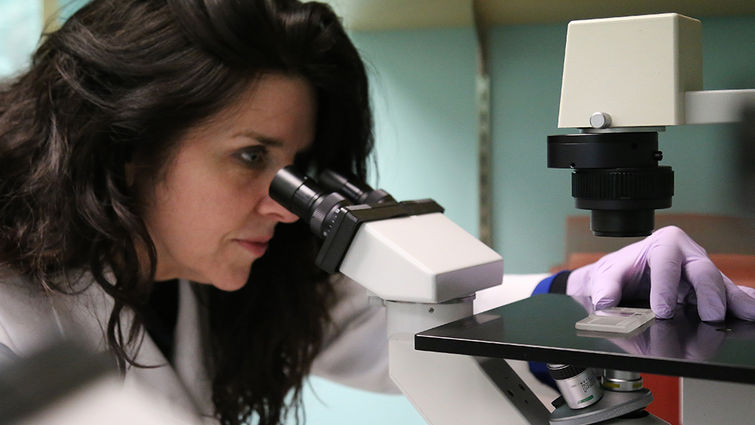 A month after receiving its first research grant, n3eight, LLC, the new business incubator at Loma Linda University Health, has been awarded a second grant, this time to develop a promising new treatment for the deadliest form of childhood cancer, a subtype of acute lymphoblastic leukemia known as B-ALL.
The grant, a $299,999 Phase 1 SBIR award from the National Institutes of Health, goes to Elf Zone, Inc., a woman-owned business that is one of eight startup firms at the incubator. SBIR stands for small business innovation research, a federal program designed to support small businesses conducting research and development projects with commercial potential.
Michael Samardzija, PhD, JD, associate vice president of research affairs, welcomes the news of the second grant. "We are extremely pleased to learn of this new grant coming so soon after we announced the first one," Samardzija said. He noted that two other companies may soon join the eight already established at n3eight.
Kimberly Payne, PhD, CEO of Elf Zone and director of translational research at Loma Linda University School of Medicine, says the grant will help develop a promising new treatment for B-ALL.
The discovery that led to the grant came as an ironic surprise to Payne and colleagues. Three years ago, graduate student Olivia Francis informed Payne that data they were generating revealed the opposite of what they were expecting to find.
The team had been studying the effect of adding a cytokine growth factor, TSLP, to a B-ALL subtype that produces too many TSLP receptors. Payne explains that immature white blood cells, including leukemia cells, rely on the growth factor to proliferate. As a result, she and Francis were expecting to see leukemia spreading faster as a result of the increased dosage of TSLP. But after reviewing the data, Payne had the team test the opposite hypothesis.
When they did, the first experiment showed the leukemia had almost disappeared. Four subsequent experiments confirmed the same finding: feeding B-ALL cells too much TSLP caused them to die instead of thrive. It also allowed healthy white blood cells to take their place. "This was totally unexpected. I was skeptical until each new experiment showed the same result," Payne said.
The data was so promising that Payne formed Elf Zone to bring the unexpected therapy to market if further testing, including clinical trials, proves as successful as her initial studies. She is eager to find a better treatment for B-ALL, which she claims is not only the most common childhood cancer, but also the deadliest.
Payne points out that many people think science has already cured B-ALL because about 80 percent of children who get it are cured. While she admits that's a better cure rate than is currently available for almost any kind of cancer, she insists it's not good enough. "When this leukemia relapses, half of the kids die and that hasn't changed in 30 years," she says.
—additional reporting by Kristen Hwang