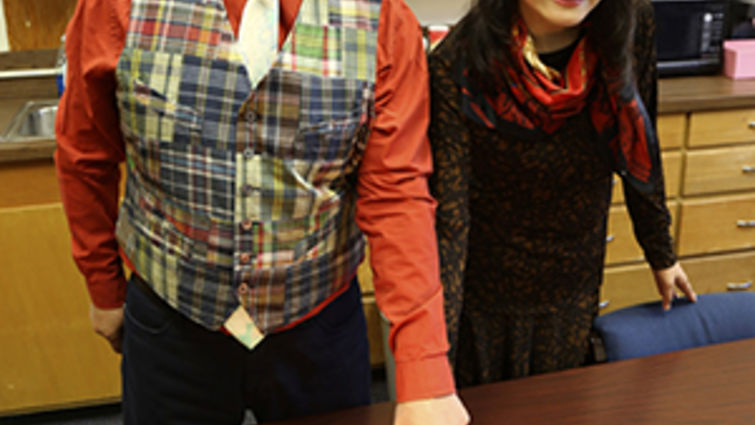 To say that John Zhang, MD, PhD, is serious about preventing and treating hemorrhagic stroke is like saying ice cream tastes good on a hot summer day.
In the 12 years Zhang has been at Loma Linda University School of Medicine (LLUSM)—where he serves as professor of anesthesiology, neurosurgery and physiology, and director of the Center for Brain Hemorrhage Research—he has landed no less than 10 R01 grants from the National Institutes of Health (NIH). Since he also secured a $6.3 million program project grant (PPG) from the NIH to establish the Center for Brain Hemorrhage Research at LLUSM in 2013 and served as co-investigator on one R01 and one R21 grant awarded to his wife, Jiping Tang, MD, professor of physiology at the school, the tally rises to 13 NIH grants in 12 years.
Add to that the fact that Zhang received a $1.6 million Department of Defense grant to study stem cell treatment for glioma, a type of brain tumor, in 2011, and it's safe to say he's been busy recently.
The R01 designation indicates a research project grant used to support a specified research project the NIH has approved for funding. The R21 designation refers to an exploratory/developmental research grant awarded in the early and conceptual stages of project development. Zhang's latest five-year R01 grant is valued at $1,728,125.
Thirteen NIH grants and one from the Department of Defense in just 12 years is, to put it bluntly, a lot of grants! Altogether, Zhang says the total value of grants he has been awarded in that time period amounts to $26 million. Since the NIH doesn't keep records on who holds the most grants during a given period of time, it's impossible to say if Zhang is the most successful grant getter in the nation. But if he isn't, he's certainly a top contender.
This latest R01 will allow Zhang and his team to study one particular subtype of stroke known as intracerebral hemorrhage (ICH). Zhang says approximately 800,000 people per year suffer from stroke in the United States and of that number, approximately 120,000 individuals are victims of hemorrhagic stroke.
"Edema, or swelling, is one of the major complications of hemorrhagic stroke," Zhang explains. "When there is massive swelling in the brain, the patient will die unless something is done to reduce the swelling."
In the introduction to his grant application, Zhang cited a year 2000 study by University of Cincinnati researchers Gebel and Broderick who found that ICH is responsible for high mortality rates and that survivors commonly suffer from lasting neurological disabilities.
Zhang created something of a stir last year when he received an NIH R01 grant to study a novel approach to reducing brain edema by introducing a small amount of a component isolated from rattlesnake venom into the skin to enhance the endogenous coagulation system to reduce bleeding during brain surgery.
So far, results from that study have been encouraging and Zhang and his colleagues recently submitted a paper discussing their findings to a national publication.
But since approximately 140,000 people die from stroke in the United States each year, Zhang, his colleagues, and the NIH are eager to pursue every promising avenue for reducing edema. This latest grant will test another potential treatment.
"We are trying to activate the body's own endogenous defense systems," Zhang says. "When we get injured, the body generates its own defenses. In the case of patients with brain edema, the body will try to limit the swelling."
Zhang hopes to trigger one particular defense mechanism by stimulating the delivery of dopamine, a substance associated with Parkinson's disease.
"When dopamine is absent, it causes Parkinson's," he says. "After an intracerebral hemorrhage, the levels of dopamine and dopamine receptors increase. We did some preliminary studies and found that by activating dopamine receptors, it tends to reduce swelling in the brain."
Zhang is optimistic about the outcome of the study and hypothesizes that by activating increased levels of dopamine and dopamine receptors, the team will improve both short- and long-term neurological outcomes after ICH.
The study is scheduled to begin in June. When it does, Zhang will simultaneously hold four R01 grants in addition to the PPG. Like his record of 14 total grants in 12 years, that is likely also some kind of a record.
More than that, it's a LOT of work. More than enough to send many researchers into spasmodic fits of denial through the sheer feeling of too many deadlines and not enough time.
Not Zhang, however. He's delighted at the thought of finding a cure for this deadly disease. Give him enough time, the odds are fairly good he'll do just that.