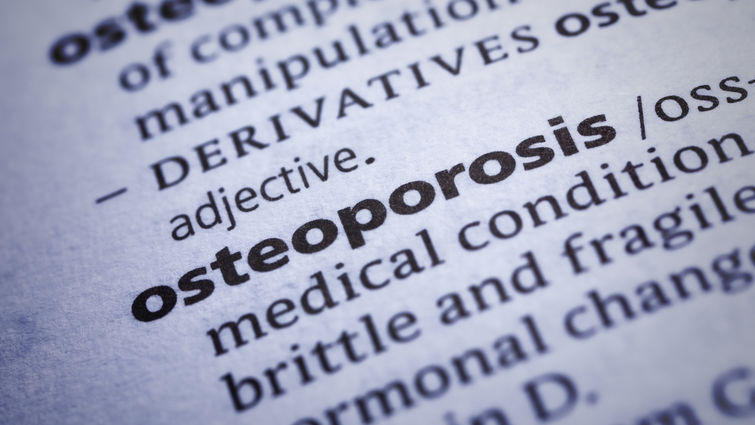 The first sign of osteoporosis can often be seen as a fractured bone making it a silent, yet dangerous disease, according to Wessam K. Labib, MD, MPH, director for geriatric medicine in the Department of Family Medicine at Loma Linda University Health. "This is not a symptomatic disease and often goes unnoticed until an injury occurs," Labib says. "The reduced bone density causes the increased risk of fracture."
World Osteoporosis Day — which was held October 20 — is dedicated to raising awareness of osteoporosis and other bone diseases. Knowing about prevention, diagnosis and treatment can help people keep their bones healthy.
Osteoporosis may seem unavoidable or untreatable; prevention can make a significant impact on reducing risks and bone loss. Labib provides insight into different aspects of osteoporosis education, including exercise, diet and screening recommendations.
Exercise
In general, weight-bearing exercises provide the most benefits when it comes to maintaining bone strength because they allow the bone to maintain its density, Labib says.
To improve bone strength, practice gentle weight-bearing and muscle-strengthening exercises — such as walking, yoga or lifting light weights several times a week. "I normally recommend for patients, especially geriatrics patients, to work with a trainer who has expertise in senior fitness to avoid muscle tears or the use of extra force."
Building muscles also decreases the risk of falling. "The stronger your leg muscles are, the less likely you are to fall," Labib says. "We encourage people to work on balance training, and be intentional about knowing their limits."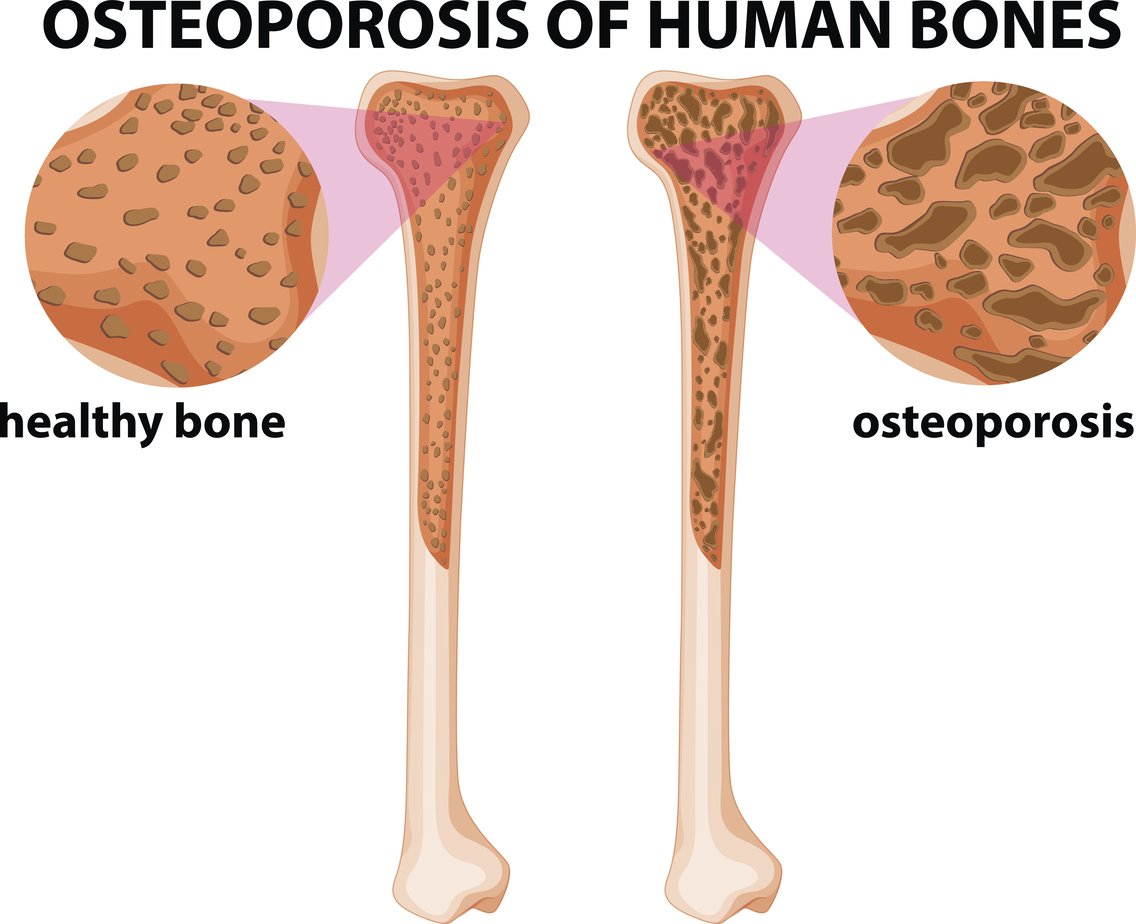 Calcium
For patients who start to have osteopenia — which is weakened bones that are not to the point of osteoporosis — doctors recommend 1200 mg of calcium a day and 800 units of vitamin D, Labib says.
Recent studies showed that more calcium supplements could cause adverse effects on the heart. "There is an increased risk of heart disease with additional calcium, but the benefits of the calcium outweigh the risks for those with weakened bones, especially since many medications for osteoporosis use up the calcium in the body to help building the bone," Labib says.
Risks
Many subgroups are at a higher risk of osteoporosis. Risk factors include age, family history, low body weight, gender, previous fractures, and the use of cigarettes and alcohol. Some medications prescribed for common health issues — such as steroids — can also lead to osteoporosis, Labib says.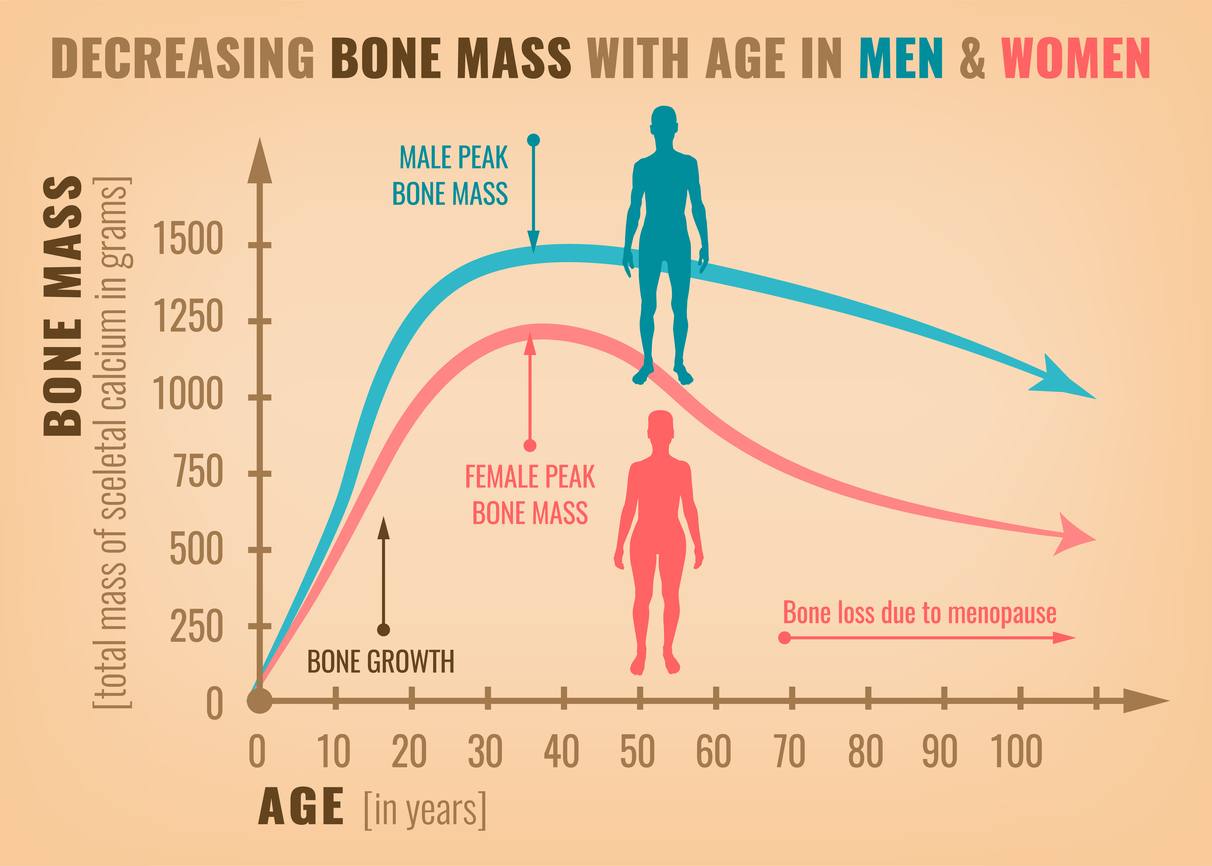 Get checked
The main recommendation from healthcare providers is for women to be screened for osteoporosis at 65 and repeated screening is recommended every two years if the patient is showing signs of bone density loss.
Osteoporosis can be identified by using a scan to measure bone mineral density (BMD). Men do not need screening as early, and vitamin D and calcium can work to combat the illness in both genders.
Talk to your doctor
Talk to your doctor about the results of your test, as tests are interpreted differently from person-to-person, and the results are calculated with the additional risk factors. Doctors include the individual fracture risks of the patient to decide if they need to be on medication and to select the appropriate management for the patient.
There are multiple options for treatment, including oral medications, nasal sprays and injections, Labib says. The frequency of the medication administration can range from daily to yearly frequency depending on the case and the chosen management.
To make a bone density screening appointment at Loma Linda University Medical Center — or to learn more about locations, insurance and payments, or Medicare and Medi-Cal — visit Senior Primary Care to see one of our Geriatric Medicine Specialists or call 909-558-6600 for an appointment with "Adult Specialty Clinic (ASC)".