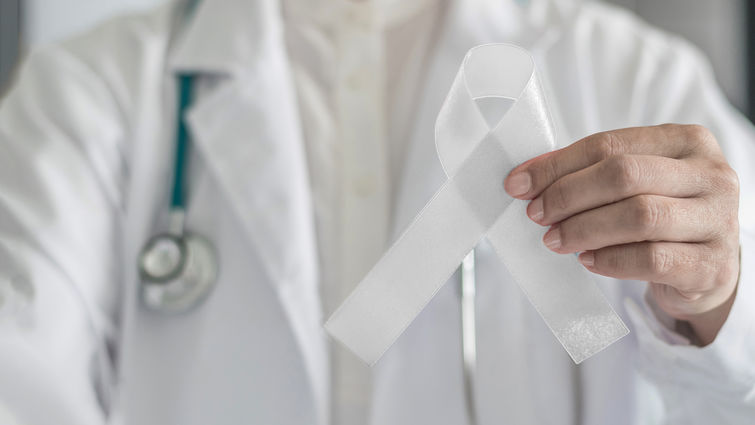 Personalized treatment approaches and multidisciplinary care are helping LLU patients overcome the nation's deadliest cancer. As a result, 81-year-old John Vickery is among the LLU lung cancer survivors who have overcome a stage IV diagnosis — and he now celebrates over one year of being cancer-free.
This World Lung Cancer Day, Vickery and his medical oncologist Hamid Mirshahidi, MD, at Loma Linda University Cancer Center share their experience to spread the word about the personalized, multidisciplinary care available to patients facing lung cancer, even at advanced stages.
By the time Vickery says he discovered his lung cancer, it had already spread to his brain. He says his life changed one March morning in 2018 when he was preparing his daily cup of coffee in his Victorville home. As he walked toward the cupboard to find a mug, he suddenly collapsed to the ground, where his wife found him moments later.
"The next thing I knew, I was at Loma Linda University Medical Center," he says. In that interim, his wife, Sharon Vickery, ensured John Vickery reached a local hospital, where she learned John had lung cancer. Once Vickery was stable enough to make a move, an ambulance transported him to LLUMC, where he would receive a higher level of care.
Vickery's oncologist, Mirshahidi, says that scans revealed tumors lodged in the left upper lobes of the lungs and mediastinal lymph nodes, and the cancer had also spread to other parts of Vickery's body, including the right frontal lobe of the brain. The Cancer Center team immediately targeted the brain tumor; the radiation oncology team performed stereotactic surgery to shrink the brain tumor. A few months later, the neuro-surgery team removed the shrunken tumor mass from Vickery's brain.
Vickery spent two weeks recovering at LLUMC before transferring to Loma Linda University Medical Center East Campus for three weeks of rehabilitation to regain mental stability and physical mobility.
Vickery says he is grateful for the kindness and diligence all care team members showed. "As far as I'm concerned, nobody down there could have treated me any better," he says. "The best people in the world were there at my back."
At the same time that Vickery underwent treatment for brain cancer and rehabilitation, Mirshahidi says he and the medical oncology care team strategized about anti-cancer therapies to dispel cancer cells from Vickery's lungs and surrounding lymph nodes. Mirshahidi tested the tumor's biomarkers, which revealed that Vickery was a candidate for immunotherapy.
After a year of immunotherapy treatment, a PET scan identified that Vickery's lung cancer had spread to adrenal glands in the abdomen, calling for a pivot in treatment. As a result, Vickery's treatment regimen shifted to chemotherapy.
Mirshahidi presented Vickery's case to the Cancer Center's tumor board, a multidisciplinary group of cancer experts who dedicate time to discussing patients' individual concerns and needs and optimizing their outcomes. The tumor board devised a plan to offer Vickery stereotactic body radiation therapy to left lung tumor and adrenal gland, which ultimately stabilized the disease.
The tumor board re-convened and again assessed Vickery's case. They reviewed recently published research demonstrating that lung lesions may respond to immunotherapy better if less than five metastatic regions existed and all lesions had received radiation.
So, Mirshahidi prescribed Vickery the same immunotherapy he had received a year prior. This time, after 10 treatments, scans showed no evidence of cancer left in Vickery's body.
"As a multidisciplinary team of experts, we were able to develop a successful approach for Mr. Vickery's treatment based on cutting-edge medical findings regarding radiation and immunotherapy."
While he continues to undergo close monitoring for lung cancer, Vickery describes each new day as "just another day in paradise" and is eager to return to his 50-year-old passion for water drilling once fully recovered. He says he happily spends quality time healing at home with his dogs and his wife, who says she is thankful for her husband's restored health.
"If it hadn't been for the care he received at this hospital, John probably wouldn't be here with me," Sharon says. "I cannot say enough about the doctors, nurses, and staff. We felt like we were hopeless, but they gave us reasons to hold out hope."
Mirshahidi says the ability to offer treatments tailored to each individual's situation represents a significant advancement from the standard of care that existed even a decade ago.
"Back then, patients with lung cancer underwent standard chemotherapy regimens, and sometimes their cancer wouldn't respond to that treatment," he says. "But now, even if patients don't respond to chemotherapy or a certain treatment, care teams can engage in multidisciplinary discussions and form personalized therapy plans to continue working toward solutions."
At Loma Linda University Cancer Center, physicians are committed to providing patients with compassionate, comprehensive care that gives them the best opportunity to face and overcome cancer. To learn more about lung cancer care at the Cancer Center, please visit lluh.org/cancer-center/cancer-programs/lung-cancer-care.