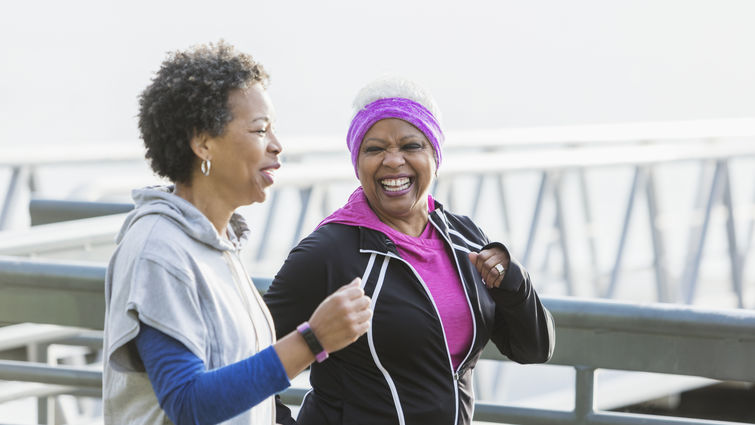 Fall brings cooler temperatures, back-to-school shopping and schedules that are busier than ever, making it difficult for many women to find time for a checkup. With so much to do, health can sometimes take the backseat to other things on the schedule.
Ron Johnson, MD, an assistant professor of Gynecology & Obstetrics at Loma Linda University School of Medicine, encourages women to stay informed on their health and updated on their screenings.
Here are some recommendations to promote women's health this fall season. 
Screenings are key
Tests and screenings of bone density, breasts, blood pressure and cholesterol can help to identify a variety of serious diseases. Early detection of many of these issues can provide both a woman and her doctor more information about her health, while also having the potential to prevent a problem from getting worse.
Johnson strongly recommends for women to ask their doctor about the following tests:
Heart screenings, which test cholesterol levels, blood pressure, blood sugar, weight and more.
Papanicolaou (Pap) tests allow gynecologists to detect any abnormal cell changes that have the potential to lead to cervical cancer.
Mammograms are perhaps the most essential healthcare test. This breast imaging can detect early signs of cancer years before symptoms of the cancer can be felt.
Colon screening with colonoscopy to detect polyps that may increase risk of colon cancer.
Focus on fitness
Creating and maintaining a workout routine that gets the heart pumping and the blood flowing can reduce the risk of cardiovascular disease and improve mood and sleep quality. Statistics from the World Healthcare Organization show that one out of three adults worldwide are physically inactive. This is particularly prevalent in more developed countries.
"Sedentary behavior is associated with increased diabetes, increased hypertension and increased cholesterol, all of which contribute to increased cardiovascular disease and mortality," Johnson says.
Women benefit heavily from moderate intensity exercise for 150 minutes per week — or vigorous intensity exercise for 75 minutes per week, Johnson says. "Vigorous exercise is associated with decreased risk of obesity, coronary heart disease, strokes, cancer and all-cause mortality."
Recommended vitamins
Certain supplemental vitamins provide women with essential nutrients, vitamins and minerals.
For women under the age of 50, Johnson recommends a healthy diet and exercise. Talking to a healthcare provider about iron, folate and vitamin B12 may also be beneficial. Maintaining a body mass index between 18 and 25 will help avoid many disease processes later in life.
For women over 50, Johnson recommends speaking with a physician about adding calcium and vitamin D. Exercise and sunshine are also important for bone health and mood support. A daily complete vitamin may be beneficial for overall health, but, Johnson says, "Dietary supplements are intended to supplement the diet, not to substitute the assortment of foods important to a healthy, whole diet."
No matter your age, Johnson recommends consulting your doctor or dietitian about your vitamin needs — especially if you suffer from fatigue, digestive issues or if you live a vegan or vegetarian lifestyle.
Loma Linda University Health's Primary Care department is also committed to partnering with your health. Visit MyChart to schedule an appointment or call 909-558-6600.