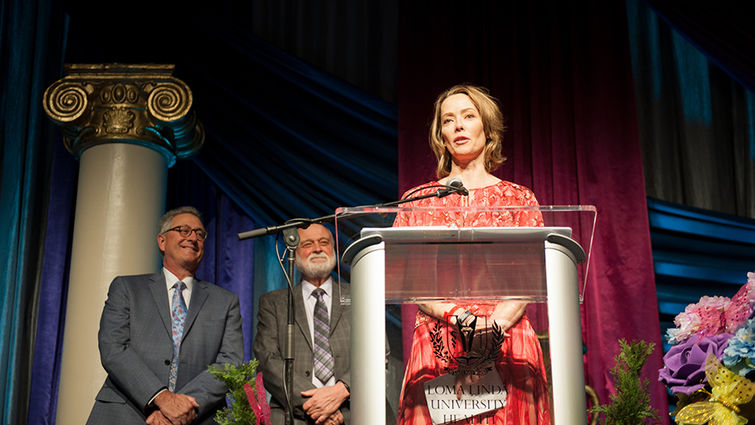 More than 800 women attended Loma Linda University Health's 2018 Women's Health Conference, a day-long event offering conference-goers opportunities to learn the latest information in health and wellness presented by local specialists.
Held at the Riverside Convention Center on April 13, the conference theme was "Let Your Life Grow Wings and Soar." Attendees could choose from 24 breakout sessions on subjects that included cardiovascular disease, nutrition, mental health, longevity, weight management, cancer, osteoporosis, vision health, and healthy living. Conference goers also had access to free health screenings,and could meet with health specialists who were at the conference to provide answers to specific lifestyle and wellness questions.
This is the tenth year that Loma Linda University Health has sponsored this conference, said Richard Hart, MD, DPH, Loma Linda University Health president. 
"Issues relating to women's health are some of the most important community health issues facing America today," Hart said. "For the past decade our team has diligently designed these conferences to provide tools and inspiration women need on their journey to better health and a more balanced life."
The conference agenda features the latest health and wellness information presented by local specialists, according to Beverly Rigsby, Service Line Development director.
"The day is also a time for women to develop friendships, take advantage of health screenings, and gain new insights with women who share the same goals," Rigsby said. 
Challenging keynote speakers
Conference keynote speakers were Christy Beam and Alison Earl.
Beam is the author of "Miracles from Heaven," the true story of Beam's daughter Annabel's neardeath experience and later miraculous healing from a rare, incurable medical condition. A story of hope and faith while overcoming life's struggles, "Miracles from Heaven" has been a New York Times best seller and was adapted into a motion picture by Sony Pictures.
Along with her recounting of Annabel's miraculous health journey, Beam's presentation also focused attention on the impact successful relationships with healthcare professionals can have on improving care. Sharing her experiences as Annabel's patient advocate, Beam emphasized positive patient advocacy andengagementwith healthcare providers is crucial to achieving favorable outcomes. 
"Patients are scared, frustrated and confused. They want answers to questions when sometimes there are no answers," Beam said. "So whether you are your child's advocate, or your spouse's or your parents' push through those hard times and don't give up. Be a miracle for others."
Earl is a behavioral strategist for Burns Group, a New York City-based brand-building agency. A researcher, strategist and positive psychology practitioner, Earl focuses on understanding why people do what they do, and how to motivate the changes needed for improved health, career, and life. She also regularly lectures at the Harvard School of Public Health.
Earl has developed a concept she terms "tripowerment," a framework that allows a person to unlock the whypower (self-determination), willpower (self-regulation) and waypower (self-efficacy), internal transformational actions that equip people for success in a self-directed world.
Earl says whypower is knowing why a goal is important to you, not why it matters to anyone else. What's going to keep you motivated to keep going whatever it takes.
"Willpower, the ability to delay gratification, is one of the biggest predictors of human success," Earl said. "You are much better off using willpower as a discipline to plan rather than as a strategy to resist temptation."
Earl defines waypower as the pathway people take to get from where they are to where they are going.
"It's about resourcefulness and mental flexibility, the ability to adapt and grow," Earl said. "At its center, waypower is the 'I can' mentality. It's more than natural ability; it's a commitment to hard work.
Two women honored for service
Each year the Women's Conference organizers honors an individual and a community health organization for outstanding service. 
Elsie Chan is defined by a "lifetime of giving." From a very young age, she started to give back, not only to her community but also to her church and her children's school. And well into what most people would consider retirement, she continues to give generously of all that she has.
Chan's "giving back" began in 1971, when she and her husband started a company called Spectrotape that provided media services worldwide. While continuing to help run Spectrotape, Chan started her volunteer efforts in 1979 in the Loma Linda area as the Chairman of the Loma Linda Chinese Church Fund Raising and Building Coordinator.
Chan believed that by modeling service for her five children, they would grow to be service oriented as adults. Her volunteer service includes serving on multiple community organization boards, volunteering for numerous service and fundraising activities at local Seventh-day Adventist churches and schools, and a significant leadership role of a group of local business leaders through her service as the president of Adventist Laymen's Services and Industries Inland Empire Chapter. Chan also works with the Loma Linda Chamber of Commerce in a number of different areas. 
Chan's philosophy can be summed up by the statement, "The more that you give to the community, the more God will bless you financially." According to Rigsby, there have been very few activities in the City of Loma Linda, the Loma Linda University Church or Loma Linda Academy during the past 50 years that Chan has not been instrumental in providing her wisdom, support and finances to make many things happen by her "lifetime of giving."
The Community Health Benefit honoree is a leader in the fight against cervical cancer. Almost all cases of cervical cancer (and many other cancers) are caused by the Human Papilloma Virus (HPV). For the past two decades, Penny Duerksen Hughes, PhD, and her team have been working to improve the quality and length of life for patients suffering from Human Papilloma-associated malignancies.
Currently, the survival rate for patients diagnosed with cervical cancer in late stages is quite low. The tumors are resistant to conventional therapy. Duerksen-Hughes and her team have found that a protein produced by the virus is responsible for disabling standard therapies such as chemotherapy and radiation. Their discovery of a small molecule that binds to the virus protein will give clinicians a way to "tame" the protein, allowing the chemotherapy and radiation to work. Their research in cells has been successful, and they are currently running animal experiments. If these are successful as well, their technology will significantly change the survival statistics. 
Duerksen Hughes and her team have recently started a small business called iSpin for their research on better ways to cure cervical cancer, as well as other HPV- associated malignancies. This company is housed in a small business incubator housed in Loma Linda University Health called N3eight (incubate). iSpin has recently applied for and been chosen for a Small Business Innovation Research award, which is designed to help take discoveries from the lab bench into actual use.
Loma Linda University Health Women's Conference Community Benefit Award will help fund this research, providing more support to make Duerksen-Hughes' and her team's goals a reality.
The 2018 Women's Health Conference received additional support from Stronghold Engineering, Inc., presenting sponsor; and the Riverside Community Health Foundation, founding sponsor.