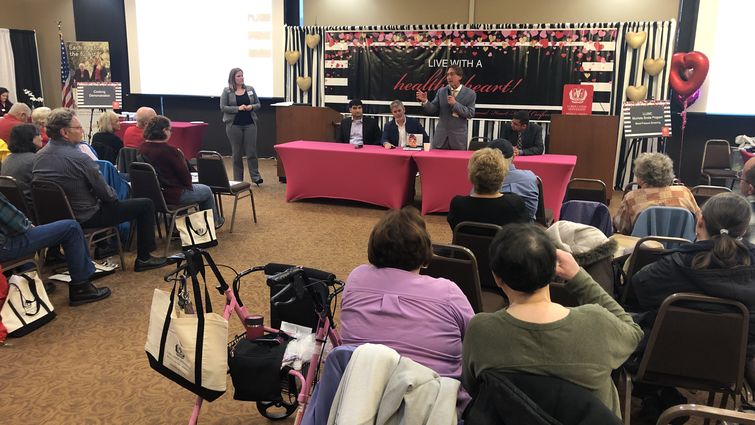 This is the first year Loma Linda University Medical Center – Murrieta has offered the transcatheter aortic valve replacement procedure— also known as TAVR. Because this non-invasive procedure is new to the region, physicians at the 3rdAnnual Heart Conference educated the community on important information to know about TAVR. 
TAVR is a non-surgical alternative procedure that treats aortic stenosis. Previously, the standard treatment was open-heart surgery, which can have a high risk of complications and longer hospital stays. Since not all patients with this type of heart disease are well enough to undergo open-heart surgery, TAVR provides another option. 
For those who live in southwest Riverside County and are interested in knowing more about TAVR, a panel of four physicians offered these take-aways:
Who qualifies for the procedure? A patient with aortic stenosis who is not strong enough to go under general anesthesia and undergo open heart surgery is a prime candidate for TAVR, says Niraj Parekh, MD, an interventional cardiologist at LLUMC – Murrieta. While surgery is still the most widely used approach, TAVR is a great alternative. 
What happens to a heart with aortic valve stenosis, and what symptoms indicate a need for valve repair? Aortic stenosis is a heart valve disease that causes reduced blood flow through the aortic valve, says Harit Desai, MD, also an interventional cardiologist at LLUMC – Murrieta. Patients with aortic valve stenosis often suffer from dizziness, shortness of breath and fatigue. If left untreated, the mortality rate after two years is 50 percent. If it is not diagnosed early enough, the heart becomes tired with the amount of work needed to pump. Desai advises that if you have any issues with fatigue from doing regular activities, please see your doctor because the sooner you attend to the issue the sooner you can fix the issue. 
What is the expected recovery for a patient who undergoes TAVR? The recovery is shorter and easier, and that's one of the reasons it's becoming so popular, says Steven Howe, MD, a heart surgeon and medical director of TAVR and cardiac surgery at LLUMC – Murrieta. Patients who undergo open heart surgery will spend at least five days in the hospital and several months recovering. However, Howe says patients who undergo the TAVR procedure will only spend two nights in the hospital and recover in about one week.  
What is the future of TAVR? Heart procedures will increasingly be conducted with minimal amount of surgical incisions, says Michael Koumjian, MD, medical director of cardiothoracic surgery at LLUMC – Murrieta. More doctors are discovering new techniques, and more companies are inventing new technologies. TAVR-type procedures are the wave of the future, Koumjian says.
If you have more questions or want to learn moreabout TAVR at Loma Linda University Medical Center – Murrieta, visit their Heart Care website or call  951-290-4314.