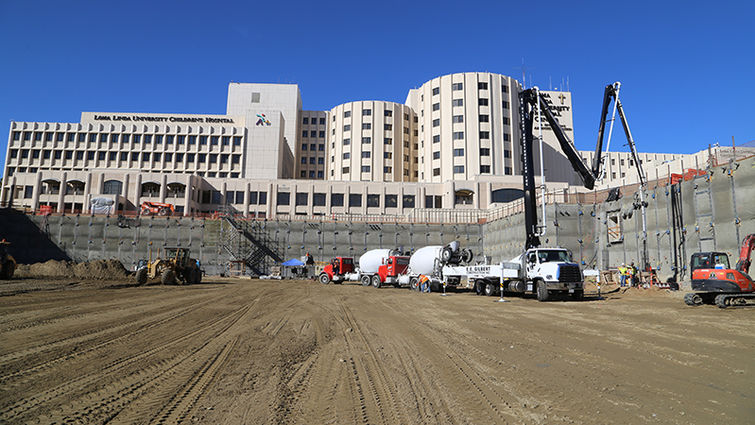 When major excavation finished in November at the site of the future new hospital building, the significance was as big as the massive hole in the ground.
"It both symbolically and literally brought us to the point where we really start constructing upward," says Eric Schilt, assistant vice president for construction, Loma Linda University Medical Center.
The excavation area measures to a depth of 50 feet, three inches; a side-to-side width of 260 feet and a front-to-back width of 410 feet. The building itself will have a slightly smaller footprint.
"Reaching this milestone means the site is prepared for a deep and solid foundation for future patient care," says Kerry Heinrich, CEO of the Medical Center.
Finishing the excavation has allowed the construction team to begin pouring a thin layer of concrete called the rat slab. The rat slab's importance is twofold. First, it will mean that rain cannot turn the construction site to mud, slowing progress. Second, it will allow for rebar placement. The rebar is being manufactured in Santa Fe Springs, California, and when in place, it will create the structural integrity for the forthcoming four-foot-thick concrete foundation.
One will see a lot of changes in 2017. It's going to be awesome when people begin to understand the impressive scale of this building. Eric Schilt, assistant VP for construction
Steel pedestals, currently under construction in Phoenix, will be installed in 2017, on top of which will be placed base isolators; these will allow the building to move laterally during earthquakes without sustaining significant damage. The primary steel structure will sit atop the isolators.
"Looking down at the site, one will see a lot of changes in 2017. By the end of the year, the construction should start to rise above ground level," Schilt says. "It's going to be awesome when people begin to understand the impressive scale of this building."
Why so large? The adult tower will replace the current Medical Center cloverleaf structure, while the pediatric tower will increase the capacity of Loma Linda University Children's Hospital.
"This will allow us to meet the needs of our growing community for many decades to come, offering a state-of-the-art facility for us to practice our special brand of whole person care," Heinrich says.
With a construction project as large as this one, results take time and milestones can feel far apart. But the entire project team is working assiduously to meet its goals, according to Schilt.
"The concept is becoming a reality," he says. "There are so many talented people involved in the project that it gives one peace of mind that we are proceeding as we should with appropriate diligence."
The building will open in 2020. Learn more about what it will be like.