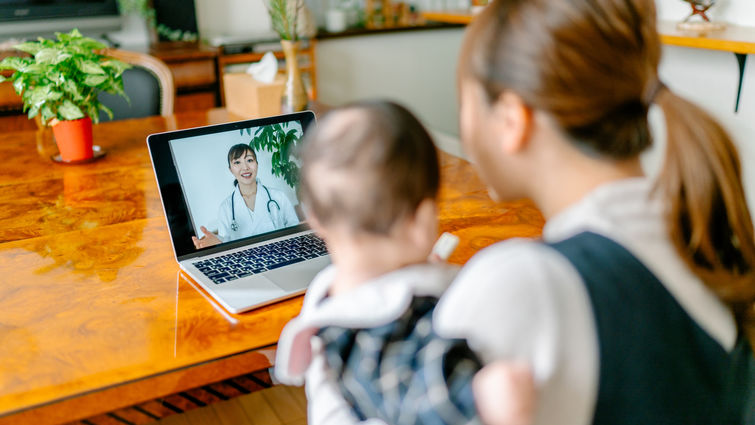 While the rapid spread of COVID-19 is halting accessibility to many parts of families' daily lives, it is not encroaching on current and future patients' access to pediatric care at Loma Linda University Children's Hospital.
During this period of uncertainty and social-distancing throughout the COVID-19 situation, Children's Hospital is committed to pediatric patients, their families and their access to safe, quality care.
"Your child's health is still our top priority," says Alexandra Clark, MD, division chief of pediatrics at Children's Hospital. "While we want you to shelter at home to decrease you and your family's risk of contracting COVID-19, we do not want you to stop your child's healthcare."
How We Are Providing Care
Physicians at Children's Hospital are available for video sick visits, well-checks and specialty visits via a person's tablet, laptop or cellphone. A current patient can schedule a video visit just like a regular appointment via their MyChart account. A new patient can call one of our offices or use our website to immediately create a MyChart account. Our specialists are accepting new patients through video visits as well.
General pediatrics and most specialties are available for video visits.  
How To Prepare for a Visit
Download the MyChart App on your tablet, laptop or cellphone.
Make sure you know your MyChart username and password before the appointment.
Test the WiFi in your home, and plan to be located in the room where the internet connectivity is most stable.
Provide your child with some books or simple toys to play with during the visit. The distractions will help your child stay busy.
Prepare a specific area in your home for the designated "clinic area," allowing for the visit to go more smoothly.
If possible, have a small flashlight handy just in case the physician needs something to be better illuminated.
If you child is being seen for a well-check, having the correct and most up-to-date weight and height of the child is helpful for the physician.
What to Expect During the Visit
When you log into the MyChart App on the day of your child's appointment, you will see the appointment under the "Appointments" tab. You can click on it and begin the e-check-in process.
If the video visit is for a well-check, there will be the usual forms to fill out available on your device. There will be general screening questions about your child's development, etc.
If the video visit is for a sick visit, there will not be forms to fill out, but rather normal conditions of agreement to e-sign.
Once e-check-in is completed, you will be connected via video to the front desk, then the medical assistant.
The medical assistant will ask you various questions about your child — similar to if they were walking you back to the exam room in a clinic. (E.g. What are you here for today? What are your concerns?
Remember: do not disconnect from the video visit at any point until staff tell you the visit is completed. There will be some moments when no one is on the other end of the video because the video is being handed off to the next person — for example, the front desk to the medical assistant, the medical assistant to the physician, etc.
After the medical assistant finishes the preliminary questions, the physician will join the video visit. There will be discussion about your concerns, any health issues, etc. The physician may ask you to angle the camera in various directions so they can examine the child.
If you and the physician decide that an in-person exam or test is needed for your child, the clinic will give you instructions on how to do so safely.
At the end of the appointment, there will be a recap discussion, new appointments will be made if applicable, and the staff will inform you the video visit is complete.
Specifics for Specialty Care Video Visits
Wendy De La Pena, MD, a pediatric rheumatologist, wants to assure parents that while she can't physically examine the patient during a video visit, the use of the camera still allows for a fairly thorough exam. For example, if the patient has a swollen joint or rash, she can still see it and assess it via the video.
"I can't do a few things like listen to their heart and lungs," De La Pena says. "But at least I can see them through the video. And after discussion with the parent about the child's issues, this can be enough to tell me if they need to have an in-person clinic visit."
For most patients, any issues for specialty care are being resolved through the video visit.
However, De La Pena wants parents to be reassured that the video visits at our Specialty Team Centers still involve the entire specialty team — physical therapist, occupational therapist, medical assistant, nurse, social worker, dietician, etc.
The Bottom Line
"Video visits allow us to accurately assess our patients and partner with their families to provide care without jeopardizing anyone's chance of COVID-19 exposure, all from the comfort of their home." Clark says.
Schedule a video visit today or call 1-800-825-KIDS.