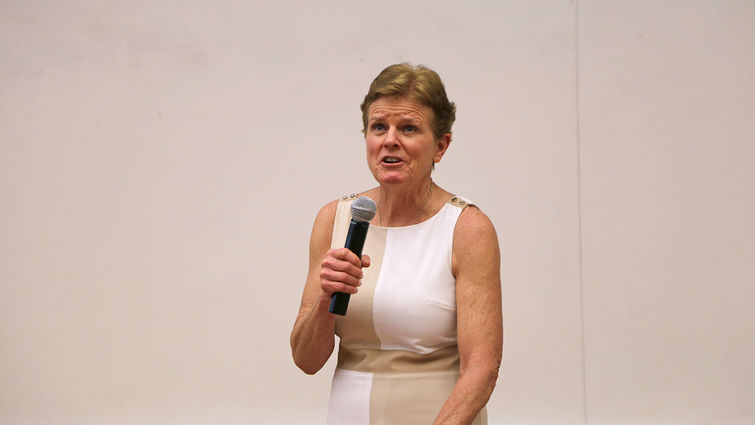 Living kidney donors tell a common story: life after donation becomes more meaningful, and donors experience an improved sense of well-being. Yet barriers, or believed barriers, prevent more people from making the choice to donate.
Working to change that, the Transplant Institute at Loma Linda University Health continues to grow and evolve with a new living donor clinic that streamlines the process of determining if a person can serve as a living organ donor. The answer can be reached in as little as one month.
The new living donor clinic focuses on optimizing the patient experience.
The clinic offers a dedicated time every other Tuesday for potential living donors to make a one-time initial visit in which they speak to all members of the transplant team.
After that, individuals who continue with the candidate process will typically return only for health screenings. That may mean just lab tests for those individuals who are already up-to-date on routine checkups for age and risk group, such as mammograms for women and prostate-specific antigen (PSA) screenings for men.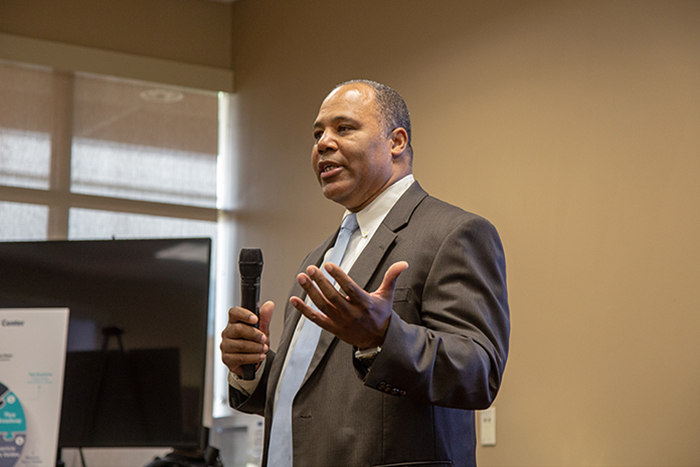 Leading this living donor initiative is Charles Bratton, MD, who transferred across the country from Medical University of South Carolina last September to serve as surgical director of kidney transplantation. He also directs and is working to expand the living kidney donation program, as well as helping increase access for the Inland Empire's some 5 million residents and greater Southern California.
The living donation program is already yielding results. The Transplant Institute is on target to perform more than 200 kidney transplants in 2018 including more than 50 living donor kidney transplants — up from approximately 30 in recent years.
And the plans are even bigger.                                  
A living donor for every kidney recipient
Living donation is the future of kidney transplantation, Bratton believes, for reasons both medical and mathematical. The number of individuals who need organ transplant is growing exponentially, while the number of deceased donors remains consistent. Living donation offers the benefit of reducing wait times for kidney transplantation in California. Additionally, health outcomes are often better with kidney transplantation from a living donor. These more positive outcomes are due to living donors often being younger, healthier and directly matched for compatibility with an intended recipient. 
Bratton envisions the day when every person who needs a kidney has a living donor — either someone they know or an altruistic donor. Altruistic donors are those who will donate a kidney even if they don't know anyone personally who needs one. (Altruistic donors have the power to save more than one life in some cases by activating kidney donation chains like the 8-person paired donation chain at Loma Linda University Health in April.
Accomplishing that vision will require education about the positive aspects of living donation, correcting misinformation and breaking down barriers. 
The selfless gifts of living donors reveal the true magnanimity of the human spirit.Dr. Charles Bratton
The stories of previous living donors reveal the blessing that living donation can be.
Testimonies from living kidney donors
Altruistic donor Bonnie Serrao has become an enthused ambassador for living donation after she donated a kidney in December 2017. 
"I always knew I would donate upon death," she said. But after retiring in 2016, she was searching for new meaning in life. Then she learned about living donation.
Serrao saw it as an opportunity to be someone's angel. Moreover, it gave her insight into her lifelong commitment to healthy diet and exercise. She had always thought it was about looking and feeling good. 
"God wanted me to take care of my body for another reason," she now says.
Six-months following her surgery at Loma Linda University Health, Serrao has fully returned to her active lifestyle. And though she's down one kidney, she testifies that "Nothing has made me feel so whole in a very long time.
"On the inside, I just feel like I'm glowing," she said. "If only I had done this earlier!" Now Serrao is looking in to whether she can donate a portion of her liver. 
"I want people to know that you don't have to die to be a donor," she said.
Fellow altruistic donor Tracey Newton, a sheriff's deputy in Riverside County, was also looking for new meaning in life following the death of her husband two years prior. She found inspiration when a coworker, Deputy Alicia Lopez, donated a kidney to 3-year-old Matthew Castleberry, the son of a close friend, in 2017.
Before Lopez donated to save the boy's life, Tracey Newton had no idea altruistic donation to a non-family member was possible. She talked to Lopez, who was supportive of the idea.
As an officer of the law, Newton says it's natural for those in her line of work to want to help people. She decided to create that opportunity by becoming an altruistic kidney donor.
Better than she could have dreamed, Newton's gift of one kidney just this April resulted in four lives saved in a cascading 8-person chain.
Reuniting donors and recipients
When both parties wish to, living donors and their organ recipients can meet. 
Tracey Newton met her recipient, 28-year-old Asia Khem, two days after their April 24 surgeries. NBC Nightly News captured the moment. Both women were still exhausted from their surgeries earlier in the day but were able to talk for several minutes. 
Asia Khem had experienced the previous heartache of three people she knew offering to donate and then backing out. It was devastating to Khem, who was in end-stage kidney disease and spending about eight hours nightly on dialysis, living an incredibly restricted life. After the three backouts, Khem's sister, who wasn't a donor match for her, stepped in to donate to a stranger, allowing a kidney swap chain to proceed.
What Khem didn't realize until weeks later is that Tracey Newton, as her donor, made the entire chain of eight links possible by being an altruistic donor. In fact, Khem didn't know altruistic donation was possible, either.
"I'm just kind of flabbergasted," Khem said, reacting to the news. "I have no words other than the utmost respect and thankfulness. I didn't know she was essentially the key."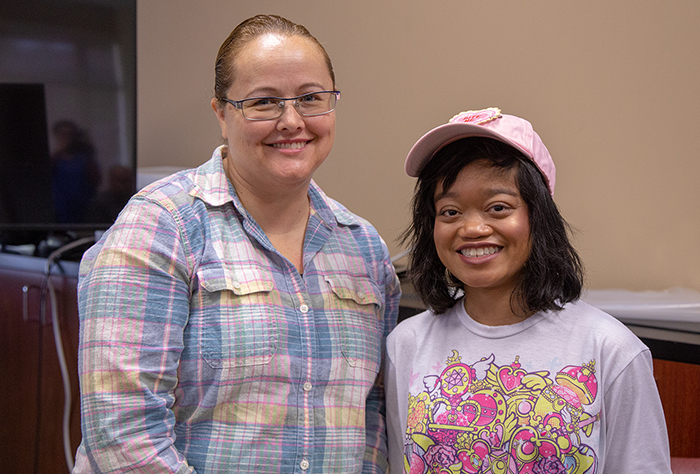 Newton recalls their hospital meeting. "I think she was surprised I was a deputy," she said. "Most people don't look at me and think 'she's a deputy.' They see a teacher or librarian." 
It's true that Khem was surprised, but the reason was her awe that such an important community servant would give up a vital organ.
"Am I worthy? Is this OK? Can I take her kidney?" Khem recalls thinking. 
But Newton doesn't describe her donation as a big deal: "All it took was one kidney to radically change someone's life."
Bratton, as leader of the new living donation initiative, puts it differently:
"The selfless gifts of living donors reveal the true magnanimity of the human spirit," he said. "They inspire the entire team at the Transplant Institute, helping us save lives and improve quality of life." 
The Transplant Institute's website has more information about the process of being a living kidney donor.
While kidneys are the most common organs donated by living donors, living individuals can also donate portions of a lung, pancreas, liver or intestines.
About the Transplant Institute
The Loma Linda University Transplant Institute is the only comprehensive multi-organ transplant center in the region. The commitment to quality, research and individualized care ensures that patients receive thorough, whole person treatment with the latest advances in transplantation.
Learn more: