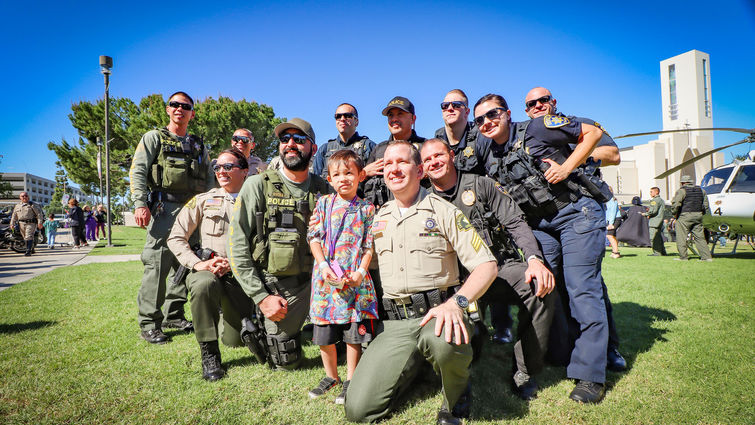 More than 20 law enforcement agencies made their way via motorcade to Loma Linda University Children's Hospital (LLUCH) for the 20th annual Cops for Kids Fly-In on Tuesday, Oct, 16. Five helicopters, more than 20 motorcycle officers, four SWAT trucks, and multiple other police vehicles took over the north lawn of the campus with a motorcade of sirens and flashing lights all for patients at the hospital.
Scott Perryman, senior vice president/administrator of Children's Hospital, expressed his gratitude to the men and women in uniform for their continued support of the hospital.
"I am truly inspired to look out into this crowd and see the incredible support of law enforcement," he said. "Not only do they keep us safe, but they go above and beyond to bring much-needed cheer."
This year's event was coordinated by Riverside Police Department, which has been involved since the event first came to fruition in 1999.
Richard Estes, a police officer pilot with Riverside Police Department, said being able to partner with the hospital and other law enforcement agencies for this event is one of the most rewarding experiences.
"Nothing beats the smiles and excitement of the kids when you're landing a helicopter in front of them," Estes said.
An event dedicated to Children's Hospital patients, kids and their families were invited to explore the various vehicles and choppers on the lawn after the motorcade. Rocky Zepeda, 6, of Victorville, was one of many patients who got to experience the law enforcement playground.
Zepeda was overwhelmed as he met first responders, telling them that he too wanted to be a police officer when he grew up.
Agencies that participated in the event were: Riverside Police Air Support, Riverside Police Traffic Division, Riverside Police K-9, Riverside Police EOD, Corona Police, Riverside Sheriff Air Support, Riverside Sheriff SWAT, San Bernardino Sheriff Air Support, San Bernardino Sheriff SWAT, San Bernardino Sheriff - West Valley and Glen Helen Detention Facilities, San Bernardino Sheriff – Central Station, San Bernardino Police - Traffic Division, CHP Air Support – Apple Valley, CHP Patrol – San Bernardino, Rancho and Riverside, Rialto Police Department, Redlands Police Department, Los Angeles Police Department, Pasadena Police Department, Fontana Police Department, Ontario Police Air support, Patton State Hospital Police, U.S. Marines – 29 Palms, and FLIR Systems.