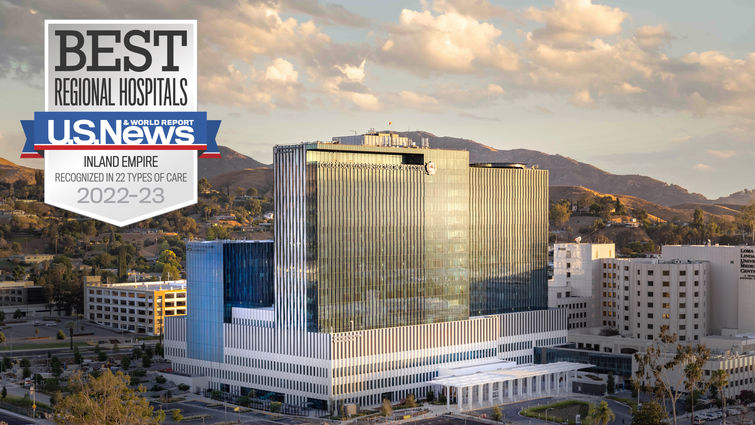 Loma Linda University Medical Center has been recognized as the 2022-2023 No. 1 hospital in the Riverside and San Bernardino metro area and No. 12 in California by U.S. News & World Report. The Medical Center earned "High Performing" marks in 22 types of care including a national ranking in pulmonology & lung surgery.
Trevor Wright, CEO of Loma Linda University Health Hospitals, says this is a remarkable achievement made possible by every member of our healthcare team and their extraordinary efforts to provide compassionate, quality care to each patient.
"These rankings offer evidence to our patients that Loma Linda University Medical Center is a place where they and their families will receive excellent healthcare when their need is the greatest," Wright says. "Though we've faced persistent challenges during the past two years, each of our employees have substantially contributed to our significant achievements in quality. Their efforts were key to this national recognition."
Released today, the annual rankings are designed to assist patients and their doctors in making informed decisions about where to seek care for challenging health conditions or common elective procedures. The "High Performing" rating recognizes care as significantly better than the national average, measured by factors such as patient outcomes.
Six of the Medical Center's adult specialties were recognized as "High Performing," including cancer, diabetes and endocrinology, gastroenterology and GI surgery, geriatrics, orthopaedics, and urology.
Fifteen procedures and conditions treated were also ranked "High Performing," including aortic valve surgery, back surgery, chronic obstructive pulmonary disease (COPD), colon cancer surgery, diabetes, heart attack, heart bypass surgery, heart failure, hip fracture, kidney failure, lung cancer surgery, pneumonia, prostate cancer surgery, stroke, and transcatheter aortic valve replacement (TAVR).
For the 2022-2023 rankings and ratings, U.S. News evaluated more than 4,500 hospitals across 15 specialties and 20 procedures and conditions. For the first time, U.S. News rated eligible hospitals in Ovarian Cancer Surgery, Prostate Cancer Surgery, and Uterine Cancer Surgery. Of the 15 specialties, 164 hospitals were ranked in at least one specialty. State and metro area rankings reflect the highest performing hospitals in the area across multiple areas of care.
U.S. News evaluated each hospital's performance using a variety of measures such as survival rates, complication rates, patient experience, and level of nursing care. The Best Hospitals methodology factors in data from the Centers for Medicare & Medicaid Services, American Hospital Association, professional organizations, and medical specialists.
More information on services available at Loma Linda University Health are available online at lluh.org.